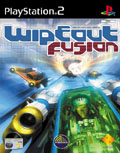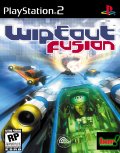 TITLE Wipeout Fusion
GENRE Racing
PLATFORM PS2
DEVELOPER SCEE
US PUBLISHER BAM! Entertainment
UK PUBLISHER SCEE
NORDIC PUBLISHER SCEE
ONLINE PLAY No
Media Screenshots:
SCREENS ADDED: 13 Mar-2005
Official Fact Sheet:
Tracks are dotted about the globe in seven huge racing venues, each with its own interactive features, three courses of increasing difficulty and differing terrain provide racing variety. There are jump ramps; special trigger pads that raise and lower bridges and open and close routes; crossroads that have a tendency to encourage pile ups; new air jumps that throw the ships vertically into the air and even an astonishing gravity pad that instantly flips your ship 180 degrees to race on a piece of track directly overhead. Some even have free-running areas that don?t limit the pilots to following the track, along with shortcuts for experienced players to take advantage of.
New physics system for the ships ? they feel and look more realistic and they are now true anti-gravity ships ? they can race on upside down track ? in fact any angle of track.
Computer pilots now drive their ships rather than follow a pre-set route around the track.
Customisable ships ? there are 32 individual ships to choose from.
Super weapons – special weapons can be unlocked by answering a series of challenges. Each racing team offers a licence to use their super weapon.
Multiplayer weapons ? specifically designed weapons for multiplayer fun like the Turbo Enforcer.
The original Wipeout had pilot characters, but their presence had no real tie with the gameplay. We?ve brought them back and now they are intrinsic to the gameplay. All the computer ships have identities. They have their own personalities and skills on the track.
There?s much more to do and find out about on the tracks and there are lots of freeform areas where you aren?t limited to ?track?.
New gravity flip pads instantly flip your ship 180 degrees to race on a piece of track directly above it.
Massive racing environments ? there are 7 huge racing environments, each with 3 courses.
Realistic damage to ships ? parts break off the ships, they smoke, catch on fire, get charred from explosions and you really have to use the pit lane now because damage effects your ship?s handling and performance!
A new side-shift control helps you to evade weapon attacks and learn new racing tactics.
There are 2 completely new one-player modes.