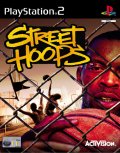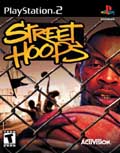 TITLE Street Hoops
GENRE Sport
PLATFORM PS2
DEVELOPER Black Ops
US PUBLISHER Activision
UK PUBLISHER Activision
NORDIC PUBLISHER Activision
ONLINE PLAY No
Media Screenshots:
SCREENS ADDED: 17 Mar-2005
Official Fact Sheet:
Street Hoops is an "in your face" street-style basketball game that captures the aggressive energy and attitude of blacktop competition. The game allows players to compete in a nationwide tournament representing their hometown on the most notorious street courts in the nation. Players will be able to choose from a roster of athletes and performers, including key players that were featured in the And 1 Mix Tapes and Nike's "Freestyle" commercial series.
Real World Locations – Players compete on 10 of the most revered street courts in America including NYC's West 4th Street, a.k.a. "The Cage", L.A.'s Venice Beach Courts, Oakland's Mosswood Playground, Philadelphia's Lombard Court, Chicago's Jackson Park, NYC's Rucker Park, Atlanta's Run n' Shoot and New Orleans' Shakespeare Park.
Authentic Courts – Designers ensured that each court is an exact replica of the real blacktop basketball court right down to the graffiti, quality of the court and culture of the neighborhood.
Three Modes of Play – Players can choose to defend their home turf in King Of The Court, take it to the road in World Tournament or hone their skills with Pick Up Game. The multi-player exhibition-style pick-up game can be played on a full court or a half court, with gamers playing head-to-head or on the same team. Players can initially choose from nine different teams or they can build their own unique, customized "ballers." In addition, players can play one-on-one to five-on-five and anything in between.
Special Unlockable Players – Users can unlock players like AO, The Main Event, ? Man ? Amazing, Headache and Hot Sauce from the most recent "And 1 Mix Tape," as well as Speedy Williams, Booger Smith and The Future, of the popular Nike freestyle commercial. Each player represents with his own signature moves.
Bet on the Games – Players can take their hard-earned winnings and spend it on new shoes, warm-ups, tattoos, jewelry, and other great gear. Gamers also bet on their next game, double the risk and double the cash.
Street Rules and Attitude – No referees exist as gamers play by hardcore street rules- no blood, no foul. The game also features down-and-dirty voice effects and taunts from the audience and other players based upon player's performance.
Save the Team to a Memory Card – Gamers can save their performance, progress and teams in order to compete head-to-head with friends.
Play competitively and cooperatively- Gamers can play against and with their friends.