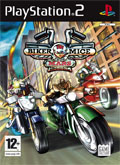 TITLE Biker Mice from Mars
GENRE Children
PLATFORM PS2
DEVELOPER Creat Studio
US PUBLISHER N/A
UK PUBLISHER Game Factory
NORDIC PUBLISHER Game Factory
ONLINE PLAY No
Media Screenshots:
SCREENS ADDED: 04 Sep-2006
Videos:
Official Fact Sheet:
The Biker Mice from Mars are on a quest to get hold of the one thing that can save Mars, their home planet, from total destruction ? the Regenerator, but they are not the only ones who want this powerful item ? Hairball, leader of the ruthless feline race ?the Catatonians?, and Ronald Rump, evil corporate land developer want the Regenerator for their own evil purposes.
They will throw everything they have at our heroes to acquire it, but the Biker Mice are not alone ? they have friends throughout the solar system to help them when the going gets rough. It?s an action-packed struggle that starts on Earth and culminates on the planet Mars, with the fate of both planets hanging in the balance!
Play the role of each of the three popular Biker Mice: Throttle, the cool leader, Vinnie, the fun dare-devil, or Modo the gentle giant Throughout each challenge, General Carbine is in touch with the Biker Mice to communicate the mission objectives. Charley the mechanic will also help by repairing their bikes, inventing new weapons and gadgets, and instructing the heroes on how to use them.
Choose between 3 different characters and their bikes to take advantage of their unique strengths and moves!
More than 20 different weapons and several cool gadgets to take with you from the ?Last Chance Garage? ? which get even cooler as the game progresses.
Fight and conquer a totally cool enemy that attacks in its own unique way!
Take control of a wild ?hog? equipped with lasers, guns, rockets and gadgets.
Race through the streets of Chicago in ?Driving? Mode blasting enemies and performing insane jumps!
Select ?Brawling Mode? and fight action-packed ?hand-to-hand? street combat.
A ?Bonus System? rewards players for achieving particular goals in each mission – encouraging players to re-play missions.
15 exciting levels ? progressive difficulty levels.
4 super-tough ?boss? fights
Capture the same blend of action, comedy, and adventure as the ever-popular cartoon series.