PS2 Games
Strawberry Shortcake: The Sweet Dreams Game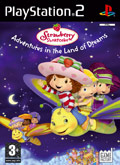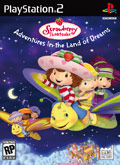 TITLE Strawberry Shortcake: The Sweet Dreams Game
GENRE Action/Adventure
PLATFORM PS2
DEVELOPER Eko Software
US PUBLISHER Game Factory
UK PUBLISHER Game Factory
NORDIC PUBLISHER Game Factory
ONLINE PLAY No
Media Screenshots:
SCREENS ADDED: 27 Jul-2006
Official Fact Sheet:
The sweet and helpful Strawberry Shortcake loves spending time with and her good friends: Angel Cake, Ginger Snap, Orange Blossom, Raspberry Torte and Lemon Meringue and is always looking out for them. Lately some of her friends have not been able to dream at night and they've asked Strawberry for her help. She decides to go to Dreamland to build new dreams for her friends, but this is no easy task! Help Strawberry by guiding her on the way to Dreamland and in the Dream Factory as she is faced with different challenges to overcome in her quest to help her friends dream again.
Adventures in the Land of Dreams stimulates the player's imagination and creativity all while having lots of fun and learning about the value of friendship!
The game is a mix of challenging platform-style game play within the eight exploration levels and 6 fun mini-games!
Players must overcome platforms, holes, jumpers and different dangers and enemies such as the plundering Berry birds.
Help Strawberry obtain and use the special powers she can acquire by unlocking dreams containing imagery of the power itself.
The game is set in four enchanting environments: Strawberryland, the Dreamboat, The Land of Dreams and the Dream Factory.
Plant seeds in the Fantasy Garden Bonus Area and grow plants to help Strawberry reach high places and collect various bonuses.
The four levels of difficulty increase each time a new friend asks for Strawberry's help.
Excellent replay value as players obtain powers and knowledge throughout the game, all of which will help them to play the game ? time and time again.