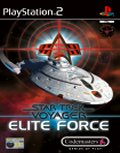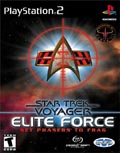 TITLE Star Trek Voyager: Elite Force
GENRE FPS
PLATFORM PS2
DEVELOPER Pipe Dream Interactive
US PUBLISHER Majesco Entertainment
UK PUBLISHER Codemasters
NORDIC PUBLISHER Codemasters
ONLINE PLAY No
Media Screenshots:
SCREENS ADDED: 09 Oct-2005
Official Fact Sheet:
Critically acclaimed as the best Star Trek game produced, the title follows an original plot written with the approval of the TV show?s creators. Star Trek: Voyager ? Elite Force sees the Federation ship and crew on a dramatic all-action mission that takes in time travel, alien attacks and an eerie space junkyard. As the crew find themselves stranded within an uncharted area of space laden with abandoned spacecraft, the player controls the heroic leader of Voyager?s Hazard Team assault squad. As the team are sent to investigate the abandoned craft, it?s soon apparent that the spaceship junkyard is not as dead as it first appeared and as a series of familiar and new adversaries make their presence known ? including an advance party from the evil Borg?
With enhanced visuals and a wealth of all-new gameplay additions, the PlayStation 2 edition recreates stunning 3D visualisations of Voyager?s expansive decks and the doom-laden interiors of five abandoned spacecraft. There isn?t however, much time to admire the views: the action comes thick and fast as the team is attacked by aliens out to ransack Voyager.
In keeping with the game?s close links to the TV series, Star Trek: Voyager ? Elite Force uses the vocal talents of the show?s cast as they liase with the team. Kate Mulgrew (Janeway), Tim Russ (Tuvok) and Robert Picard (The Doctor) have all provided exclusive audio tracks for the game, which are used to give Munroe fresh orders and update the evolving plot.
Each member of Munroe?s team has access to official Federation armaments, including Phasers and Tachyon Lasers, all of which boast special dual firing mechanisms. The Ensign can also equip his team with guns liberated from defeated alien races, effectively doubling the number of weapons at his disposal.
The Hazard Team officers are intelligent game characters, but then so are the aliens? get caught up in the middle of a massive firefight, and both the invading aliens and your Federation officers run and duck for cover behind crates, taking careful aim and retreating when injured. It?s sheer blinding brilliance as battles escalate in firepower with the other Hazard Team members fighting beside the player, rather than leaving you to do all the hard work.
The series? famed Holodeck is also used to provide backdrops for exclusive training and multiplayer levels, wherein up to four players compete in a series of multiplayer challenges or battle against computer-controlled characters.