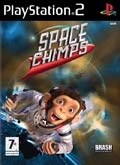 TITLE Space Chimps
GENRE Action
PLATFORM PS2
DEVELOPER Brash Entertainment
US PUBLISHER Warner Bros Interactive
UK PUBLISHER Warner Bros Interactive
NORDIC PUBLISHER Warner Bros Interactive
ONLINE PLAY No
Videos:
Official Fact Sheet:
His grandfather's legacy lands HAM III, a quick-witted circus chimp with the genetics of a space hero, smack in the middle of an election-inspired senator's plan to discover alien life. As the newest recruit to a team of highly trained space chimps, HAM III becomes a reluctant passenger on a harrowing mission through a dangerous inter-universal wormhole. This galactic adventure rockets the irreverent HAM and his fellow space chimps, TITAN and LUNA, deep into the cosmos to a wondrous planet ruled by a bizarre, tyrannical king. With the threat of death-by-dunking at the hands of the evil king constantly dangling over their heads, the astro-chimps find themselves responsible for the success of the Horizon's perilous mission, their own survival, and the emancipation of the planet. Sometimes it takes a trip to outer space to learn an important inner lesson: when the banana splits, it's what's inside that counts.
Space Chimps is a 1-2 player actionadventure game that chronicles the quest of Ham and Luna as they overcome the perils of an alien planet in search of Earth's lost Infinity Space Probe .
Alternate between playing Ham and Luna exchanging humorous banter between the two acrobatic chimps.
13 levels including 3 bosses
Battle 2-player coop style or fight as 1-player with an advanced AI-controlled hero at your side.
More than 35 new enemies from the Fluvian world to challenge your combat skills!
Unlockable 2 multiplayer cooperative arenas utilizing the chimpball or traversing on the back of Fluvians.