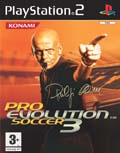 TITLE Pro Evolution Soccer 3
GENRE Sport
PLATFORM PS2
DEVELOPER Konami
US PUBLISHER Konami Digital Entertainment
UK PUBLISHER Konami Digital Entertainment GmbH
NORDIC PUBLISHER Konami Digital Entertainment GmbH
ONLINE PLAY No
Media Screenshots:
SCREENS ADDED: 27 Aug-2003
Official Fact Sheet:
With the Pro Evolution Soccer series rightly regarded as the pinnacle of console football titles, the Tokyo-based team has risen to the challenge of out-performing its predecessors and Pro Evolution Soccer 3 is certain to set new standards for the football genre. As befits a series widely regarded as the definitive football experience for console, Pro Evolution Soccer 3 represents a mammoth step forward for the series, with every aspect of the game massively reworked, with new player models, on and off the ball moves and key additions to the Master League incorporated into the new game.
From the outset, Pro Evolution Soccer 3's improvements are obvious. The game's menu screens have been simplified to cater for the wealth of new modes on offer. In addition to the series' renowned cup tournaments, friendly matches and a new, four-division Master League, KCE TYO has also added a 'Shop' element to the game. This adds additional depth to the series, as players accumulate points via the training and exhibition modes. These in turn can be traded for new stadiums, crowd effects, teams, players, strategies and hair styles, rewarding the player for prolonged play.
Pro Evolution Soccer 3 has also undergone a radical aesthetic overhaul, with KCE TYO renewing over 80% of the in-game animations, and a new graphics engine allowing the greatest level of detail seen in the series. Combined, Pro Evolution Soccer 3 benefits from players that not only look identical to their real-life counterparts, but move like them, too. Similarly, the players have improved AI and ball physics that allows them to pull off moves specific to particular situations. As such, long-range drives are now more controllable than before, while players can flick the ball over a defender with their heel and perform deft turns to bypass oncoming defenders.
This level of detail is further expanded with a wealth of smaller ideas. Players now have facial expressions which change depending on how the game is going, while injuries are more visible with the addition of head bandages and strapped limbs. In addition, the crowd now plays a larger part in the proceedings; with the popularity of teams reflected in how full the stadium is, while they will also be dressed differently according to the weather the match is being played in. The fans also benefit from a number of new stadia, as KCE TYO continues to add to the big game realism Pro Evolution Soccer 3 enjoys.
With a multi-player mode accommodating up to eight players, referees playing the advantage in foul situations, the option to control one player as opposed to switching between them, and new modes to select referees and switch fatigue on and off, Pro Evolution Soccer 3 is certain to set new standards for a console football game. Every element of the game has been tweaked, reworked and enhanced resulting in a game where every flick and trick of the real thing can be intuitively performed.