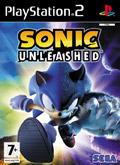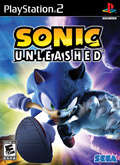 TITLE Sonic Unleashed
GENRE Action
PLATFORM PS2
DEVELOPER Sonic Team
US PUBLISHER SEGA of America
UK PUBLISHER SEGA Europe
NORDIC PUBLISHER SEGA Europe
ONLINE PLAY No
Media Screenshots:
SCREENS ADDED: 20 Oct-2008
Videos:
Official Fact Sheet:
Sonic Unleashed will launch players on a revolutionary high-speed adventure through a world torn by chaos. Powered by the all-new ?Hedgehog Engine,? Sonic Unleashed merges classic Sonic gameplay with the latest in next-generation innovation. It launches players on a journey across the globe and merges blistering 2D action with picturesque 3D environments. Sonic Unleashed delivers an expansive world with seamless 3D to 2D transitions and branching pathways, as well as dynamic viewpoints and a series of enhanced speed mechanics to help Sonic navigate the world.
With an exciting new storyline where day and night play drastically different roles, Sonic Unleashed will send Sonic on an unforgettable quest to save a dying world from the maniacal Dr. Eggman. Players find that Dr. Eggman continues on his mission for domination, but this time he?s upped the stakes by causing a catastrophic event that breaks apart the world and unleashes a slumbering beast that alters Sonic in unexpected ways. It is up to Sonic to use his newfound abilities to connect the remnants of a shattered world by finding the lost chaos emeralds. With the world divided and Sonic facing distinctly complex challenges, including new abilities and powers, the stage is set for a climactic battle for Sonic to save the world? and himself!
Unleashed Engine: A suite of new technologies combine to form the new ?Hedgehog Engine? unveiled in Sonic Unleashed. Under development for three years, delivers a revolutionary gameplay experience with realistic graphics and seamless transitions between 3D and classic 2D high-speed action.
Unleashed Gameplay: With scorching 2D gameplay and cutting-edge 3D visuals, the latest Sonic adventure blends the very best of the franchise with a keen eye toward the future. Use a collection of all-new abilities and powers to navigate thrilling courses, while battling the minions of Dr. Eggman.
Unleashed Speed: Avoid obstacles instantly using ?Quick Step? without losing speed. Players can also use ?Sonic Boost? and accelerate to supersonic speed by quickly collecting rings and increasing ?Ring Energy? level. Finally, maintain the high-speed momentum through turns using ?Speed Drift?. With more opportunities to maintain or increase speed, the player is challenged to compete with energy and fast-paced action!
Unleashed Environments: The splintered world of Sonic Unleashed delivers a massive playground where players can choose an array of paths when jetting through each stage. Each unique route offers different encounters with varying rewards and obstacles.