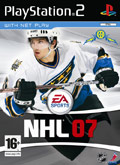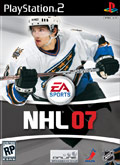 TITLE NHL 07
GENRE Sport
PLATFORM PS2
DEVELOPER EA Sports
US PUBLISHER Electronic Arts
UK PUBLISHER Electronic Arts
NORDIC PUBLISHER Electronic Arts
ONLINE PLAY Yes
Videos:
Official Fact Sheet:
The golden era of hockey videogames is back with NHL 07 brought to you by EA SPORTS – brand of the best-selling hockey videogame. Console hockey now rivals its counterpart on the ice with an unmatched level freedom and control.
NHL 07 puts you in total command with a revolutionary new Skill Stick system. Never take your hands off the analog sticks as you take complete control of all skating on the left, and – for the first time in a hockey videogame – passing will use an intuitive motion on the right analog stick to execute with precision.
Feel like a part of the team with a level of passing fluidity that allows you to implement a realistic team strategy. Look to your teammates and know how to best use their strengths with New Player-Specific Behaviors. Play the game like you do on the ice: Be the Playmaker and find your Sniper open in the slot, or let your Dangler make pylons out of the defense.
Off the ice, act as the General Manager in an enhanced Dynasty Mode. Do whatever it takes to meet an owner's expectations by properly managing rosters and using your creativity to fit player salaries under the new cap.
Whether you're running the front office or dominating the rink, NHL 07 is the most intuitive and realistic hockey experience ever created.
Skill Stick Revolution-Experience a realistic sense of team control on the ice. Command every movement and make precise passes by directing the right analog stick towards your intended recipient.
All-New Player-Specific Behaviors-NHL 07 players act like their real-life counterparts more than ever with six different player types, including Danglers, Playmakers, Snipers, Power Forwards, Offensive Defensemen, and Defensive Defensemen.
Live the Life of a GM-Build team chemistry, sign and trade players, and negotiate contracts under the new salary cap to meet an owner's expectations. Earn trust points with every positive move then purchase upgrades for the team.
Shootout Returns-Become an instant hero with the most exciting play in sports. With the game on the line, all eyes are on you. Skate down the ice, read the goalie, and see if you can score the momentum-swinging goal.
Elite League Expansion-European Elite Leagues return with the addition of the Czech Elite League and an all-new Elite League Dynasty mode that clearly distinguishes the differences between European and NHL hockey.
EA SPORTS Free-4-All-Online or in the same room, it's every man for himself in an all-out hockey EA SPORTS Free-4-All. Using only one side of the rink, challenge up to three friends and see who can score the most goals in your fight to dominate the hockey world.