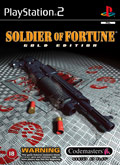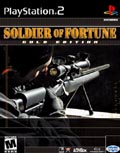 TITLE Soldier of Fortune: Gold Edition
GENRE FPS
PLATFORM PS2
DEVELOPER Pipe Dream Interactive
US PUBLISHER Majesco Entertainment
UK PUBLISHER Codemasters
NORDIC PUBLISHER Codemasters
ONLINE PLAY No
Media Screenshots:
SCREENS ADDED: 09 Oct-2005
Official Fact Sheet:
Hired to hunt, paid to kill ? Soldier of Fortune ? Gold, the best-selling first-person shooter, is coming to PlayStation 2. Codemasters has secured from Majesco Sales Inc the European publishing rights to Raven Software?s 18-rated classic. With the atmosphere of a blockbuster action-thriller, Soldier of Fortune ? Gold plunges the player into a no-holds-barred modern day scenario. As John Mullins, the world's deadliest soldier of fortune, track down and take out a fanatical terrorist organisation with force.
Soldier of Fortune ? Gold submerses Mullins in the deadly world of a gun-for-hire with covert missions spanning five continents. The game?s 10 covert missions, covering 26 levels of play, take in the underworlds of political hotspots across the globe. As Mullins engages in sabotage, stealthy assassination, and full frontal assaults, it?s the player?s skill as a clear-headed marksman that separates the hunter from becoming the hunted.
Mullins has access to lethal weaponry including a sniper rifle, grenades, plastic explosives and prototype pulse guns. Real bullets do real damage; shoot someone in the leg and he falls, writhing and grasping his wound. Shoot someone in the head and he falls down dead. The detailed enemy characters have hit points all over their bodies; take aim and fire ? whether an opponent is left floored or terminated outright is up to you.
Powered by Raven?s GHOUL rendering system, the game displays unprecedented detail and realism in its creation of locations and character model animation.
For the player who could do with some target practice before setting off, the game also includes a tutorial option.