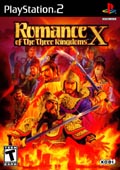 TITLE Romance of the Three Kingdoms X
GENRE Strategy
PLATFORM PS2
DEVELOPER KOEI
US PUBLISHER KOEI
UK PUBLISHER N/A
NORDIC PUBLISHER N/A
ONLINE PLAY No
Media Screenshots:
SCREENS ADDED: 13 May-2005
Official Fact Sheet:
The adventure begins when the beleaguered Chinese empire falls victim to a rebellious plot, and continues through over one hundred years of civil war. China's turbulent history is revealed in breathtaking detail as players take the roles of Ancient China's most extraordinary figures including peasant turned emperor Liu Bei, conqueror Cao Cao, the elite warrior Zhao Yun, and brilliant strategist Zhuge Liang.
Play as any officer! Includes 650 playable characters. Also create up to 110 new officers.
Social class, wide-ranging personalities, and events affect the personal life of your character. Choose from five ranks: Sovereign, Viceroy, Prefect, Vassal, or Free Officer.
Become a diplomat and experience the significant political victories of the time. Debate with other officers and officials and master the politics of war.
Acquire over 40 skills plus an array of new commands. Start a rogue army, fulfill civilian requests, swear an oath of brotherhood, foretell of disaster, and much more.
The constant threat of enemy campaigns adds a new level of tension! Regional conflicts escalate into large-scale wars as the fighting spreads. Build a massive army and launch full-scale campaigns against your enemies.
Over 200 dramatic events viewed and interpreted differently by each character. Overcome trials of bravery and intelligence to create your own stories.
Score composed and conducted by Yoshihiro Ike.
As players progress through history, their game world grows and develops based on achievements, skills, and strategies.
Detailed tutorials, a help function and convenient command explanations allow for trouble-free play.