PS2 Games
Project Zero 3: The Tormented (AKA Fatal Frame III: The Tormented)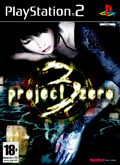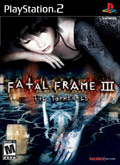 TITLE Project Zero 3: The Tormented (AKA Fatal Frame III: The Tormented)
GENRE Action
PLATFORM PS2
DEVELOPER Tecmo
US PUBLISHER Tecmo
UK PUBLISHER Take 2
NORDIC PUBLISHER Take 2
ONLINE PLAY No
Media Screenshots:
SCREENS ADDED: 06 Feb-2006
Official Fact Sheet:
Taking the popular Japanese Horror theme to a whole new terrifying level, Fatal Frame III: The Tormented is a complete Japanese Horror interactive experience as the player takes on the role of Rei, a cursed young woman whose overwhelming guilt and tormented dreams lead her into a formidable world where the lines between reality and nightmares are blurred and the only way out is to solve the mystery of the tattoo. What the player will see in Rei's dreams is only the beginning of the nightmare, making Fatal Frame III: The Tormented the most terrifying virtual experience to date.
Multi-Playable Characters: Using strategy and skill, the player must choose between 3 different characters with unique special abilities in order to complete each terrifying mission.
Two Haunting Worlds: The game takes place in 2 haunting worlds: the nightmare and the real life. As the player moves deeper into the game, the line between the two worlds becomes blurred, creating fear and uneasiness in the player.
In-Depth Storyline: The story of Rei's torment will consume the player as they move deeper and deeper into the mind-bending world of Fatal Frame III: The Tormented
Camera Obscura: The Player will use the camera obscura not only as a weapon but as a guide by taking pictures of the ghostly inhabitants and creepy objects within the "House of Sleep" in order to solve the mystery of the tattoo and rid of the curse.
Evolved Ghosts: Most terrifying ghosts to date as hideous facial expressions and creepy eye movements have been refined. Ghosts will stare at the player while morphing into a scarier ghost, increasing fear in the player as they confront the apparition.
New Characters: A new female heroine, Rei Kurosawa, and a young journalist, Kei Amakura, bring new special abilities and their own stories to Fatal Frame III: The Tormented.
Returning Characters: Miku from the original Fatal Frame is back and playable in Fatal Frame III: The Tormented, using her strong spiritual powers to help Rei solve the mystery of the "House of Sleep", as her haunting personal story from Fatal Frame continues…
Disturbing Sounds and Visuals: Eerie sounds, unexpected movements, and psychologically disturbing visuals all add up to the most terrifying Japanese Horror interactive experience to date.