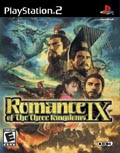 TITLE Romance of the Three Kingdoms IX
GENRE Strategy
PLATFORM PS2
DEVELOPER KOEI
US PUBLISHER KOEI
UK PUBLISHER N/A
NORDIC PUBLISHER N/A
ONLINE PLAY No
Media Screenshots:
SCREENS ADDED: 14 Dec-2004
Official Fact Sheet:
With Ancient China as the backdrop, Romance of the Three Kingdoms IX chronicles the events of 2nd and 3rd century, when a once grand empire fell into civil war. RTK IX is vastly different from previous games in the series. Most notably, players immediately assume the rank of a Ruler. Traditionally reserved as the highest rank in the series, the role of Ruler will test your leadership, management, and strategy skills.
Combat in RTK IX takes place at a much faster pace than in previous installments. Negotiate political and military affairs at the same time, and use diplomacy while under attack or shift strategies against enemy units in the midst of combat.
Foreign tribes now play a pivotal role and can help players protect their dominion. The Wuwan, Xi Qing, Shanyue, and Nanman tribes have powerful armies, yet they refrain from expanding their own territories. Build relations with a tribe, and they may aid you in battle. Declare a war against a tribe, and they may attack.