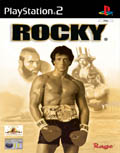 TITLE Rocky
GENRE Sport
PLATFORM PS2
DEVELOPER Steel Monkeys
US PUBLISHER Ubisoft
UK PUBLISHER Rage Software
NORDIC PUBLISHER Rage Software
ONLINE PLAY No
Media Screenshots:
SCREENS ADDED: 16 Mar-2005
Official Fact Sheet:
It's the film that inspired a nation – and won the 1976 Best Picture Oscar?. Rocky (Sylvester Stallone) is a Philadelphia club fighter who seems to be going nowhere. But when a stroke of fate puts him in a ring with the world heavyweight champion Apollo Creed (Carl Weathers), Rocky knows that it's his one shot at the big time – a once-in-a-lifetime opportunity to "go the distance" and come out a winner! Audiences and critics alike cheered this American success story of an "everyman" triumphing over all odds.
Prepare for the fight of your life. Jump into the ring as Rocky Balboa and go head-to-head against 29 tough opponents, including Apollo Creed, Clubber Lang, Ivan Drago, and Tommy Gunn!
Train with Mickey and company to pound your way from the streets of Philadelphia to become the Heavyweight Champion of the world!
Rocky delivers big-time punch combos and flurries with thunderous power and heart-stopping speed.
Play as Rocky Balboa as you fight and train your way to the top, first as an upcoming challenger, then as reigning World Heavyweight Champion, against 20 tough opponents, clashing with the bosses of the five "Rocky" films along the way. This is how you unlock boxers and arenas for the other modes. Extra characters can also be unlocked by completing "Movie Mode" at Contender and Champ difficulty levels.
The "no nonsense," straight into the thick of things mode. Choose a boxer and go head-to-head against a friend or the computer.
Before the bout begins, you choose where the fight will take place. The length of each round can be set in seconds, and the number of rounds the fight will last can be chosen. The skill level for the computer can then be selected in single-player mode: Novice, Contender, or Champ.
Enter a Knockout Tournament with up to 16 players. Bronze, Silver, and Gold belts are up for grabs.
Perfect your boxing skills against one of three hardened sparring partners.
Watch the Intro and the FMV movies you have unlocked from "Movie Mode."