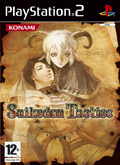 TITLE Suikoden Tactics
GENRE Strategy
PLATFORM PS2
DEVELOPER Konami
US PUBLISHER Konami Digital Entertainment
UK PUBLISHER Konami Digital Entertainment GmbH
NORDIC PUBLISHER Konami Digital Entertainment GmbH
ONLINE PLAY No
Media Screenshots:
SCREENS ADDED: 06 Oct-2005
Official Fact Sheet:
Acting as a companion title to last year's Suikoden IV, Suikoden Tactics is set before, during and after the events of that game. It stars a new hero, Kyril, as he initially flees from hideous creatures overrunning the Island Nations, before forming a band of heroes to help repel the invaders. Kyril must also learn about the mysterious Rune Cannons, weapons that, perhaps, could be used against the monstrous beasts.
Kyril's quest takes him across a breath-taking 3D world resplendent with varied and detailed environments. Dotted across this are over 50 characters, all of whom can be spoken to and, if appropriate, recruited to the cause. Each character enjoys a distinct personality, and Suikoden Tactic's cast also features 20 characters new to the series. To succeed in his fight against the invaders, Kyril must unite his disparate group and combine their skills as they enter battles or search for items.
True to the series' heritage, combat plays a large part in Suikoden Tactics. Huge battles between Kyril's party and masses of the creatures are commonplace, but the true challenge lies in using the surroundings to your advantage – using raised areas to give attacks more range, or attacking rivals in areas where they cannot escape.
In all there are over 20 battle scenarios, and the player can constantly tailor the available equipment and upgrade weapons throughout the game. Similarly, a new visual strategic system allows players to keep an eye on the status of their troops via simplified icons, removing the need to summon menus during the heat of a battle.