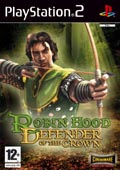 TITLE Robin Hood: Defender of the Crown
GENRE Strategy
PLATFORM PS2
DEVELOPER Cinemaware
US PUBLISHER Capcom
UK PUBLISHER Capcom
NORDIC PUBLISHER Capcom
ONLINE PLAY No
Media Screenshots:
SCREENS ADDED: 27 Aug-2003
Official Fact Sheet:
It is a time of great unrest in England. With King Richard the Lionheart held for ransom, the evil Prince John, seizes the throne, and declares himself the King of England. The entire nation soon falls into civil war as greedy nobles war amongst themselves and Prince John sends forth armies to shackle the country under his unjust rule.
In this time of lawlessness, only an outlaw can lead the people to freedom. One man, the embodiment of true honor, vows to save his people and restore peace to the land. This man is known as Robin Hood. From the small-scale skirmishes with the Sheriff of Nottingham in Sherwood Forest, Robin finds himself drawn into the larger the battlefields of England, and the hero of the poor must become the savior of an entire nation.
Robin Hood: Defender of the Crown combines the classic game loved by thousands with a legend known around the world for a gameplay experience unlike any other. Players take on the role of the legendary outlaw himself and must use strategy, cunning, and quick reflexes to overthrow a tyrant prince, rescue the true king, and reunite England.
With the support of Little John, Friar Tuck, Maid Marian and his band of merry men, Robin Hood must use his mastery of archery, swordsmanship, jousting, siege warfare, and combat strategy to lead the people of England to victory. Along the way, his resolve and skills will be tested against such villains as the Sheriff of Nottingham, the mysterious and deadly Guy of Gisbourne, and Prince John himself.
A unique blend of role-playing and strategy combined with thrilling action sequences.
Fund the war effort by lightening the purses of traveling merchants in thrilling archery ambushes.
Lay siege to imposing castles using mighty siege engines and Greek Fire.
Joust in majestic tournaments for fame, fortune and land.
Conquer England?s 38 territories as you command troops on the battlefield and manage Robin?s growing armies.
Swordfight through battlements, catacombs and towers in search of treasure ? or to rescue a beautiful damsel.
Unique special events, multiple goals and non-linear gameplay make each playthrough a new experience.
An engaging story filled with action, drama, romance and high adventure.
Twenty minutes of rendered cutscenes and a full hour of recorded voice acting bring the characters and world to life.