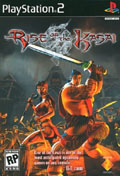 TITLE Rise of the Kasai
GENRE Action
PLATFORM PS2
DEVELOPER Bottlerocket Entertainment
US PUBLISHER SCEA
UK PUBLISHER N/A
NORDIC PUBLISHER N/A
ONLINE PLAY No
Media Screenshots:
SCREENS ADDED: 12 May-2004
Official Fact Sheet:
Players can either assume the role of Rau, a heroic warrior unmatched in skill and strength, Tati, his younger, agile sister with a darker, more threatening side, or other characters, each with their own weapons, deadly combos, and unique animations. As the last of the "Rakus," together they must scout, strategize, stealth and fight through richly detailed 3D environments, where they will discover the truth about the family's dark secret, and the origins of the Kasai.
Rise of the Kasai presents a new and innovative approach to fighting adventure games. With the critically-acclaimed combat system, gamers can attack in stealth mode or use the best weapon available for the situation. Up to nine opponents in the player's range can be attacked by using the right analog stick to select and assign specific or multiple buttons for lethal combos. Combined with artistically sketched movies, and a colorful cast of characters, the engaging storyline of Rise of the Kasai will immerse gamers into a world of dark magic, discovery and conflict.
Rise of the Kasai begins with Kuzo, a large black bird who is Rau's trusted spirit guide, being informed that Rau has been killed. As the story progresses, the characters replay significant events in Rau's destiny. Taking place both 10 years before the original game's storyline and 10 years after, Rau joins his younger sister, Tati and the other cast of characters as they battle the Kasai through 10 dynamic levels in search of the events that led up to his death.
The main hero, Rau, and his trusted spirit guide, Kuzo, return for the sequel along with new, stylized characters, including Tati- Rau's sister, each with their own weapons, abilities and purpose.
With all new dynamic environments, playable characters, online cooperative gameplay, weapons, storyline and more, Rise of the Kasai offers three times the gameplay of the original.
Building on the proprietary combat action that is innovative, intuitive and extremely responsive, two players will be able to team up online and defeat enemies together or play with a human or artificial intelligence (AI) controlled character for a one-of-a-kind gameplay experience.
The critically acclaimed combat system operates by sweeping the right analog stick in the direction of the enemies, enabling up to nine targets to be "locked" onto and attacked. Pressing the corresponding buttons engages an enemy (or group) attack, while combos can be used to kill swiftly and mercilessly.
While Rau is able to use Kuzo to scout unknown territory, distract enemies and retrieve items, Tati can "spirit walk" and see through the eyes of the dead. Tati also has the ability to blend seamlessly into the environment and wait undetected, furthering the strategic element of the gameplay.
Defeat enemies in a balanced mix between two different states of fighting – armed or unarmed (stealth). Rau has four weapons in his arsenal: battle axe, Taiaha (spear), broadsword and bow and arrow. Tati's arsenal includes daggers, a deadly staff with retracting blades, an axe, a proximity-based weapon and the ability to become invisible in stealth mode.
Vibrant, intricately detailed areas with their own uniquely distinct style that build on The Mark of Kri's award winning art direction.
Engaging storyline that takes place 10 years after The Mark of Kri immerses the player into a world of dark magic, discovery and conflict. Learn key story information through the Oracle, Kuzo, artistically sketched in-game movies and animated in-game movies.
Immersive game design requires the players to strategize as they progress from one "combative puzzle" to the next. By scouting ahead and evaluating the scenario they can then plan their best line of attack and which weapon is best suited for each situation.