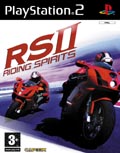 TITLE Riding Spirits II
GENRE Racing
PLATFORM PS2
DEVELOPER Capcom
US PUBLISHER N/A
UK PUBLISHER Capcom
NORDIC PUBLISHER Capcom
ONLINE PLAY No
Media Screenshots:
SCREENS ADDED: 16 Dec-2003
Official Fact Sheet:
Gamers can now take to the road with faithfully reproduced motorcycles from famous European manufacturers such as Ducati, Aprilla, Triumph and BMW in addition to top models from Honda, Kawasaki, Yamaha and Suzuki plus Japan?s most famous tune shops Yoshimura and Moriwaki. And with engine sizes from 250cc to over 1000cc available Riding Spirits II boasts an impressive 330 bikes to get to grips with.
These 330 bikes can raced in 40 categories around 15 courses from across the globe, including Suzuka and Twin Link Motegi giving Riding Spirits II excellent replay value. In RS Mode players compete in races to gain points, purchase of new bikes and progress through the ranks whereas Arcade Mode allows players to quickly get set up and start racing. In addition Riding Spirits II features two brand new gameplay modes.
Will you be able to win a race by a margin of greater than 10 seconds, or reach a target speed before your adversary? These are just a couple of the challenges that await riders in 100 Battle Mode, a series of trials against computer controlled opponents which will put different skills and driving techniques to the ultimate test.
Riding Spirits II also introduces Motard Racing Mode where riders compete on circuits with both tarmac and off-road sections. This mix of surfaces will force gamers to learn how to slide or drift their machines around the off-road corners and make them think carefully about their bikes? set up before they race.
As well as faithfully reproducing the looks of the bikes, Riding Spirits II features incredibly realistic engine sound thanks to a brand new proprietary technique called M.R.S.S (Motorcycle Real Sound System). This system simulates the action of each piston and the resulting engine noise is produced following a highly advanced physical calculation. Not only does M.R.S.S. make it possible to differentiate between different makes and models, but also to replicate the subtle changes in sound when a tune-up is performed or a new exhaust added.
With 40 different customisable elements from tuning, tyres and suspension to colour and even the indicators, each of the 330 bikes can be tweaked to suit the player?s riding style and personal tastes. Add to this, the ability to purchase suits and helmets from top manufacturers such as alpinestars, Aria, Dainese and Shoei and it is easy to see why Riding Spirits II is going to be a biker?s dream.