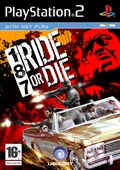 TITLE 187 Ride or Die
GENRE Racing
PLATFORM PS2
DEVELOPER Ubisoft
US PUBLISHER Ubisoft
UK PUBLISHER Ubisoft
NORDIC PUBLISHER Ubisoft
ONLINE PLAY Yes
Media Screenshots:
SCREENS ADDED: 19 May-2005
Videos:
Official Fact Sheet:
187 Ride or Die features the voices and likenesses of rising young actors including Larenz Tate (Menace II Society, Ray), Noel Gugliemi (Training Day, The Fast and the Furious), and Guerilla Black. 187 Ride or Die tells the story of a reluctant urban hero named Buck (L. Tate), a young man living a thug?s life seething with money, fast cars and beautiful women ? with danger lurking around every corner. Set in the underworld of Los Angeles, Buck must defend the territory of his mentor Dupree (G. Black) from a menacing nemesis and his gang of bandit roughriders, led by Cortez (N. Gugliemi), who are determined to take control of the streets.
Adrenaline-Pumping Combat-Racing Action: Put your pedal to the metal as you literally blow your opponent away in non-stop, intense and unique combat-racing action intensified with replay and slow-motion camera effects, and spectacular blur and filter effects.
Pimpin? Rides: Select from a number of unique vehicles ranging from vintage roadsters to modern muscle cars in your quest to rule the streets.
Strapped to the Nines: Put your hand on the pump and take out the opposition with numerous weapons, including an array of pistols, shotguns, and much more.
Endless Replay Value: Several different game modes including single player Death Race, Cop Chase and Assassination. Or battle with your friends on PlayStation? 2 online, Xbox? Live? and PC online.
Loaded Cast and Production: Features the voices and likenesses of rising young stars such as Larenz Tate (Menace II Society), Noel G (Training Day) and Guerilla Black. Developed by a talented production team that includes Director Ali Kojori (who also collaborated on Def Jam Vandetta, NBA Street, Fight Night, Need for Speed) alongside Creative Director Matty Rich (Straight Out of Brooklyn, The Inkwell).
Exclusive Music Soundtrack: Banging hip-hop soundtrack produced exclusively for 187 Ride or Die.