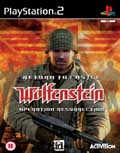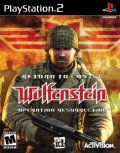 TITLE Return to Castle Wolfenstein
GENRE FPS
PLATFORM PS2
DEVELOPER Raster Productions
US PUBLISHER Activision
UK PUBLISHER Activision
NORDIC PUBLISHER Activision
ONLINE PLAY No
Media Screenshots:
SCREENS ADDED: 04 Dec-2002
Official Fact Sheet:
Mission – The player assumes the role of B. J. Blazkowicz, a badass Army Ranger tasked with infiltrating the deepest realms of the Third Reich in an attempt to thwart Himmler's occult and genetic experiments. Initially teamed with another OSA operative, Agent One, players begin their journey in Egypt where they uncover the early stages of Himmler's plans. After being grounded by triple-A fire, players must overcome capture and the death of their new partner as they battle throngs of the Fuhrer's brainwashed soldiers and hordes of zombies in an epic campaign that spans the globe from Egypt to Norway and the heart of Nazi Germany. The game features the most twisted and frightening enemies, including SS Guards patrolling forests and secret military installations, zombies unleashed in ancient crypts, and the mutant X-creatures – the product of the hideous secret X-lab facilities.
Tactical Combat – Every situation is different and players must survey each potential combat situation and decide how best to approach the conflict by either using stealth or overwhelming firepower. With a robust scripting system and life-like AI and animation systems, tactical combat is taken to new levels.
Weapons – Players unleash hell against the Nazis with an arsenal of conventional arms such as machine guns, sniper rifles and flamethrowers, as well as secret experimental weapons forged by the mad scientists of the Reich.
Made for the PlayStation 2 – For the first time ever, B.J. is introduced to Agent One in a brand new campaign and expanded storyline that takes both characters throughout Egypt and eventually to Castle Wolfenstein. Players are also rewarded with new items, exclusive secrets and special bonuses for finding all of the secrets or silently eliminating the enemy. While every combat situation has been specifically crafted to reward a strategic approach.