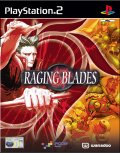 TITLE Raging Blades
GENRE Fighting
PLATFORM PS2
DEVELOPER PCCW
US PUBLISHER N/A
UK PUBLISHER Wanadoo Edition
NORDIC PUBLISHER Wanadoo Edition
ONLINE PLAY No
Media Screenshots:
SCREENS ADDED: 26 Nov-2002
Official Fact Sheet:
Are you ready to fight against an evil god and 7 dark races from hell?
In the role of the Iria the Valkyrie, Gray the Knight, Ray the wizard, Tina the monk or Bud the warrior use your sword or magic skills to prevent an age of darkness from sweeping their homeland.
Raging Blades has three difficulty settings, with 'easy' being a tutorial running over the first three levels. In each difficulty setting, the game gets progressively more difficult as the player advances from start to finish.
Each of the nine game's levels is made up of several fight zones. Players must eliminate all enemies before moving on to the next zone.
To move on to the next level, players will have to defeat "boss" creatures with devastatingly powerful attacks. Players will need to use their best attacks if they are to overcome the bosses and will also have to observe their behaviour carefully in order to discover their weaknesses.
Three factors determine a player's score: the time taken to finish the level; the number of enemies killed; and a technical score based on a player's ability to perform sophisticated attack combos without being wounded by the enemy. To get a good score, players will have to finish the level as quickly as possible by using powerful attack combos and avoiding getting wounded.
Players can collect special powers and equipment by destroying objects such as wooden chests, urns and barrels: healing spells, fire spells for double damage, life points, temporary armour and invincibility, special attacks, etc.