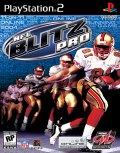 TITLE NFL Blitz Pro
GENRE Sport
PLATFORM PS2
DEVELOPER NetherRealm
US PUBLISHER Midway
UK PUBLISHER N/A
NORDIC PUBLISHER N/A
ONLINE PLAY Yes
Media Screenshots:
SCREENS ADDED: 15 May-2003
Official Fact Sheet:
The new direction of NFL Blitz was designed with the sports fan in mind and is based on feedback from both hardcore and casual sports enthusiasts. Nationwide focus testing of sports videogamers produced a clear message: gamers applaud Midway Sports trademark arcade-style gameplay and intense action but also want to experience their favorite teams, players, and stadiums in an authentic professional sports context. Midway Sports answered the call by taking NFL Blitz in a new direction.
Officially licensed by the NFL and Players INC, NFL Blitz Pro will showcase authentic 11-on-11 live online play with real NFL teams, stadiums, and features, while still providing the well-known Midway Sports "edge." Real-time weather effects — everything from snow in Buffalo to sunshine in Miami — are delivered through an online service and player leaderboards, tournaments and downloadable content are also available to enhance the realistic experience.
Adding to a variety of new features in NFL Blitz Pro is an all-new Blitz-style Running Game that includes traditional moves such as handoffs, pitches, reverses, and up-the-gut runs, as well as more aggressive trick plays that the pros have yet to attempt. In addition, NFL Blitz Pro includes a Franchise Mode that allows up to 32 players to compete in 10 seasons where they can draft, trade, upgrade, release, sign free agents and retire. Stat tracking and current team information such as rosters, schedules, stadiums, uniforms and team captains are also included.
NFL Blitz Pro also features DVD content with an exclusive behind-the-scenes look at the NFL Pro Bowl in Honolulu, Hawaii, where top pro players such as defensive end Hugh Douglas of the Jacksonville Jaguars, linebacker Derrick Brooks of the Tampa Bay Buccaneers and running back LaDainian Tomlinson of the San Diego Chargers designed plays and performed audio capture for the game.
New Blitz Online – Head-to-head gameplay, player leaderboards, real-time online weather, tournaments and downloadable content.
New 11-on-11 Gameplay – Every team, every position and all your favorite players.
New Blitz-Style Running Game – Handoffs, pitches, reverses, and up-the-gut runs, as well as more aggressive trick plays that the pros have yet to attempt.
Real-Time Weather – Download real-time weather effects to experience everything from sunshine to snow and rain depending on the hometown stadium.
New Franchise Mode – Up to 32 gamers can engage in the franchise mode for up to 10 seasons. Draft, trade, upgrade, release, sign free agents and watch out for that old veteran who decides to hang 'em up after the season.
Current Team Information – Complete and updated rosters, schedules, uniforms, stadiums and team captains.
Improved AI – The days of catch-up code are gone; either play hard or go home.
New Motion-Capture and Animations – Tackles, runs, and catches put you in the middle of the action with incredible authenticity and Blitz-style aggression.
New Modes – Pro-Bowl and Practice Mode.
New Camera Angles – Dynamic camera angles to capture deep crossing routes and monster sticks with improved television style cut scenes.
New Stat-Tracking – Track all of the important stats from sacks and interceptions, to yardage gained and touchdowns scored.
New Fantasy Elements – Fantasy stadiums, characters and drafts.
Easy Access Menu – Intuitive interface and play select menu.
New Color Commentary – Play-by-play and color commentary to describe all of the action.
Improved Action – Adrenaline-style, over-the-top gameplay featuring players leaping, soaring, diving for passes, stiff-arming, and bulldozing would-be defenders in the all-new running game, while precision passing quarterbacks throw darts, lasers and quick slants.
New Improved Controls – Intuitive, fast-action controls.
Officially Licensed – By the NFL and NFL Players INC, which means that you can play all of your favorite NFL teams and players in your favorite NFL stadiums.