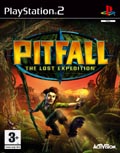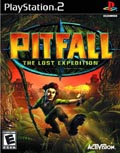 TITLE Pitfall: The Lost Expedition
GENRE Action
PLATFORM PS2
DEVELOPER Edge of Reality
US PUBLISHER Activision
UK PUBLISHER Activision
NORDIC PUBLISHER Activision
ONLINE PLAY No
Media Screenshots:
SCREENS ADDED: 28 Jul-2003
Official Fact Sheet:
Take an adventure as Pitfall Harry, the daring, risk-taking explorer who laughs in the face of danger. Featuring over 50 levels of fast-paced action and puzzle solving adventures, the game challenges players to swing, fight, climb and crawl through eight types of treacherous South American environments including lush jungles, dark tombs, ancient Aztec ruins and glacial mountains. Pitfall Harry also includes favorite features from the earlier Pitfall? games such as vine swinging, gaping chasms, crocodiles and scorpions. Gamers can overcome the obstacles using all of the tools in Harry?s arsenal including a sling, dynamite and ice axes, and rescue those in distress from deadly foes like snakes, scorpions and spiders.
Awesome Action/Adventure Elements — The game lets players jump between adventure and puzzle levels with fast-paced transitions inspired by the vine-swinging action of the original game. Once in a level, branching pathways allow players to choose a desired direction of travel.
New And Classic Enemies — Gamers can tangle with a host of enemies like snakes, scorpions, spiders, bats, jaguars, piranhas, insects, natives, mercenaries, bush ninjas and mega monkeys.
Be The Hero Who Has Everything ? Players have access to a wide range of tools to get the job done: ascend massive glacial cliffs with trusty ice axes; keep out of harm?s way with an elevating pogo stick; fight-off foes and activate switches with a powerful sling shot; deter pests and shed light on the situation with a blazing torch; and deflect flame jets with a mighty shield.
Heroic Actions — As gamers progress in the game they will gain new abilities that will assist in the quest, including a quick dash option and numerous combat maneuvers. They can also use simple button combinations to turn regular actions into special heroic feats.
Break From The Hunt For Adventure — Collecting special items allows players to compete for gold in Native Olympic mini-games.
Experience Top Technology ? Total Havok?s physics technology ensures that objects react to their environments in a realistic manner ? floating icebergs and swaying vines. The advanced Edge engine supports next-generation graphics and Dolby? surround sound.