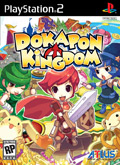 TITLE Dokapon Kingdom
GENRE RPG
PLATFORM PS2
DEVELOPER Sting
US PUBLISHER Atlus USA
UK PUBLISHER N/A
NORDIC PUBLISHER N/A
ONLINE PLAY No
Media Screenshots:
SCREENS ADDED: 24 Jul-2008
Videos:
Official Fact Sheet:
The King of Dokapon has offered you his throne; all he asks for in return is that you dispose of an invading horde of thieving monsters. Trouble is – you?re not the only one he asked. Contend with up to three friends as you navigate playfields littered with challenges, monsters to defeat, and rare secrets to unlock. Warning: Relationship counseling not included.
Innovative board game-RPG crossover ? Tired of shallow gameplay in party games? The genre gets retooled in this exuberant mix of role playing and board games! Encounter zany characters, collect rare items, and explore a fascinating kingdom on your quest to vanquish monsters, gather treasure, and level up!
The friendship-destroying game ? Turn the heat up on your rivalries! Take on up to three other soon-to-be-ex-friends in the race for Princess Penny and the crown. Battle, steal, deface ? playing dirty is the name of the game ? through a variety of locales and challenges. After your friendships are broken, the game is just as much fun to play alone.
Never the same game twice ? Tons of battles, magic spells, mini-games, and multiple play modes add up to endless replayability!
Easy, intuitive, and effective combat system ? This is no boring game of hack-and-slash. Players covertly choose their actions in an intuitive battle interface that guarantees every fight will surprise.