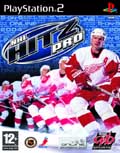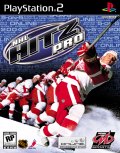 TITLE NHL Hitz Pro
GENRE Sport
PLATFORM PS2
DEVELOPER Next Level Games
US PUBLISHER Midway
UK PUBLISHER Midway
NORDIC PUBLISHER Midway
ONLINE PLAY Yes
Media Screenshots:
SCREENS ADDED: 15 May-2003
Official Fact Sheet:
The head-to-head online play in NHL Hitz Pro features online player rankings and tournaments. NHL Hitz Pro also includes 100 percent NHL legitimate, 23-man player rosters that bring together pro players and authentic team lines with real offensive and defensive team formations in precise correlation with each NHL team.
NHL? Hitz Pro includes an improved AI that is so authentic gamers will think they are playing with the NHL pros. Goalie animations, logic and behavior are realistically captured and feature everything from stick saves to stoning a knee-buckling 5-hole shot to slapping the ice with five seconds left in a power play. Gamers also have the ability to score from anywhere on the ice and will feel the tension and strain of NHL? action with a new Player Fatigue System that causes them to tire out after experiencing tough checks.
Playing on accurately diagrammed rinks, players will get cheers and jeers from the realistic crowd that reacts to the action on the ice. Additionally, an upgraded Franchise Mode allows players to build a Dynasty and manage every aspect of the team; a re-tooled Hockey School Mode teaches and tests gamers' hockey skills; and a Multi-player Tournament Mode allows gamers to set up tournaments with up to 16 teams.
In addition, Midway has signed an exclusive deal with Nicklas Lidstrom, star defenseman of the Detroit Red Wings. Lidstrom appears on the packaging and cover art for the game and also brings his big hits to NHL Hitz Pro's DVD section. Viewed as one of the top defensemen in the NHL, Lidstrom is a four-time finalist and recipient of the coveted Norris Trophy and member of the 2003 Western Conference All-Star team.
New Online Play – Head-to-head gameplay, online player rankings and tournaments.
New 5-on-5 Gameplay – Just the way hockey is played in the NHL, 5-on-5. Every team, every player, and every position.
Full NHL Penalties and Violations – From offsides and two-line passing to holding and cross- checking, all NHL penalties will be enforced in NHL Hitz Pro.
23-Man Player Rosters -100% legitimate NHL rosters. All players are available and all authentic team lines are ready to score on goal.
Real Stadiums -NHL arenas are accurately diagrammed in NHL Hitz Pro.
Real Offensive and Defensive Team Formations – Every team's offensive and defensive scheme in NHL Hitz Pro is in precise correlation with the actual team in the NHL.
Player Fatigue System – Just as in a real hockey game, as players dish out the checks, or as the player gets checked to the ice, the more tired they become.
"On the Fly" Line Changes – See your line becoming tired or spot a mismatch in the defensive team and switch up your line "on the fly" to have the freshest players on the ice.
Legitimate Stick Handling – Just like the real players in the NHL?, glide and move the puck back and forth like a yo-yo near the net, through the use of the right analog stick. NHL Hitz Pro offers the most realistic stick and puck handling on any hockey game to date.
Realistic Crowd Reactions – For the first time, a sports videogame will accurately recreate a realistic crowd and player emotion based on the flow of the game. You might get a "ho-hum" reaction from the crowd and your teammates by scoring a goal to go up 8-0 against your opponent, but the crowd will flip out and your teammates will rush you when you score the game-winning goal in overtime.
New Color Commentary – Midway Sports is adding a second commentator to the booth, and he'll give you his take on the game as well as the lowdown on some of your favorite NHL players.
Upgraded Franchise Mode – GM Mode option lets you build a Dynasty and manage every aspect of your team. Draft and trade players at your whim! Choose the offensive strategy and plot the perfect defensive scheme to prevent other teams from abusing your squad. After you create the perfect strategy, now determine who starts, and who gets left behind on the bench.
Re-tooled Hockey School Mode – NHL Hitz Pro features an all-new and restructured Hockey School where the game player is taught and the skills tested. Your instructor will introduce a young NHL All-Star to tell you a little more about what is important in hockey, as well as provide an NHL Hitz Pro game tip.
Score from Anywhere on the Ice – NHL Hitz Pro now has multiple new ways to score, new context-sensitive plays like wraparounds, deflections and flip shots from behind the net.
Multiplayer Tournament Mode – Set up tournaments with up to 16 teams.
Advanced Options – With different tunable settings and sliders, you can completely customize your gaming experience, from glass brittleness right down to puck friction.
Enhanced Fantasy Draft – Choose your favorite team and begin your NHL? season from the absolute beginning where all players become free game and are eligible for the draft. Feel like an NHL owner and all the pressures that come when trying to construct a team from scratch.
Improved AI – Smarter players, realistic offensive and defensive behavior. NHL Hitz Pro delivers such realistic AI, you'll think you're playing one of your friends.
Improved Goalie Animations – NHL Hitz Pro has gone to great lengths to ensure the best and most realistic goalie animations ever. From stick saves, to stoning a knee-buckling 5-hole shot, if a goalie can make the impossible save in the NHL, he can make it in Hitz.
Improved Goalie Logic and Behavior – From slapping the ice with five seconds left in a power play, to sprinting to the bench with one minute left in the game to give your team the one-man advantage. Goalies in NHL? Hitz Pro behave and react like the real thing in the NHL.
Officially Licensed Equipment – Through Franchise Mode, users will be able to gain equipment to better suit their players. There will be five levels of equipment, including many of the biggest brands in hockey: The Hockey Company, Bauer Hockey, Itech and Easton.
New Motion Capture Animations – From new checks, slap shots and goalie animations, NHL Hitz Pro improves on more than 1,500 motion-captured animations in the game.