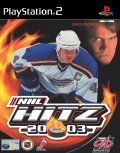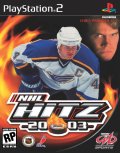 TITLE NHL Hitz 20-03
GENRE Sport
PLATFORM PS2
DEVELOPER EA Black Box
US PUBLISHER Midway
UK PUBLISHER Midway
NORDIC PUBLISHER Midway
ONLINE PLAY No
Media Screenshots:
SCREENS ADDED: 01 Dec-2005
Official Fact Sheet:
All-new game modes add challenge and depth to the gameplay experience. For those new to the ice, NHL Hitz 20-03's Hockey School offers a tutorial, while veteran fans will appreciate even more mini-games and an in-depth New Season mode that enables detailed statistics tracking, player trades using trade logic, a playoff tree, and official NHL awards.
NHL Hitz 20-03 also suits up with bigger, stronger and faster players. Improved goalie logic, behavior, animations and control make it tougher to score while a visual aggression meter tips off gamers as to which players are more likely to drop the gloves.
To add to the element of realism, NHL teams take on the same playing style as their real-life counterparts, and two-man motion capture animations provide gamers a more realistic view of the action. Hitz also delivers enhancements to its signature, over-the-top play with secret arenas presented in a unique fantasy setting as well as hidden teams and special players to unlock along the way
Officially licensed by the NHL and the NHLPA and featuring real NHL teams and athletes
New Franchise Mode – Pick teams and equipment to compete for the number one ranking in the world
New Hockey School Mode – A tutorial to familiarize players with controls and gameplay mechanics
New Enhanced Season Mode – In-depth statistic tracking, player trades, full NHL calendar and playoff tree
More Mini-Games – Includes six games with skill competitions for one or two players
New Fully 3D-Modeled Crowd – Now more than 10 times larger
Improved Goalie Logic, Behavior, Animations and Control
Bigger and Better Animations – More outrageous checking, fighting, shooting, and passing with more aggressive hits that can break the glass
New Team Play Styles – NHL teams take on the playing style as their real-life counterparts
New Motion Capture Animations – Two-man motion capture animations for more realistic checking
Enhanced Arenas – Choose from 30 rinks that are bigger with benches, coaches and scoreboards
New Fantasy Stadiums, Hidden Teams and Players – Secret arenas presented in a unique fantasy setting as well as hidden teams and special players to unlock along the way
Create-a-Player – Design the ultimate ice warrior
New Color Commentary – A second sportscaster joins the game to describe all of the outrageous action
New Referee – Officials tough enough to handle face-offs, fights and escorting players off the ice