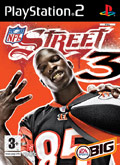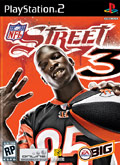 TITLE NFL Street 3
GENRE Sport
PLATFORM PS2
DEVELOPER EA Sports
US PUBLISHER Electronic Arts
UK PUBLISHER Electronic Arts
NORDIC PUBLISHER Electronic Arts
ONLINE PLAY Yes
Media Screenshots:
SCREENS ADDED: 16 Nov-2006
Videos:
Official Fact Sheet:
With the exclusive video game license of the NFL and PLAYERS INC., NFL STREET 3 brings back the gravity-defying moves and ankle breaking jukes, but now this year NFL STREET 3 allows the player to collect items above the field that can change the game and garner respect. With the third iteration in this franchise, you have the ability to control your Game Breaker and execute all new power moves. Remember it's all about Respecting the Street!
Big Opportunities/Collectible Items:
Jump into the air to collect items such as, footballs, credits, gear and game modifiers that exist above the playing field. Game modifiers are available to help change the course of the game.
Power Moves:
Once your Game Breaker meter fills up you can use your Game Breaker whenever and' wherever you want by pulling off new power moves. These moves are available to both the offense and defense.
Interactive Objects:
Gain big air by jumping off of objects such as, boxes and barrels on the field.
Aerial Style Moves:
Add more style to your game by doing it in the air. Once you're airborne you can pull off style moves using the Right Analog Stick.
Respect the Street:
Earn enough respect and you'll get to decide how you want to play the game. With a high respect level you can get Chad Johnson to bring you new plays for your playbook.
New Game Types:
Playbook Elimination allows you to tear the page out of your opponent's playbook! If an offensive play ends in a fumble, interception, loss of yards or an incompletion that play is thrown out and the player that is ahead when all the plays are gone is declared the winner. Other game types are Yards for Points, Bank, Defensive Scoring and Time Attack.
Enhanced Online Play