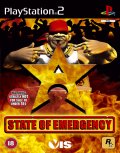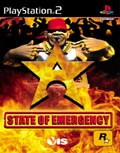 TITLE State of Emergency
GENRE Action
PLATFORM PS2
DEVELOPER VIS Entertainment
US PUBLISHER Rockstar Games
UK PUBLISHER Rockstar Games
NORDIC PUBLISHER Rockstar Games
ONLINE PLAY No
Media Screenshots:
SCREENS ADDED: 28 Aug-2005
Official Fact Sheet:
State of Emergency is an urban riot game set in the near future, where the oppressive American Trade Organization (ATO) has declared a State of Emergency. State authorities are clamping down on organized resistance and restricting movement across the City to counter the spread of revolt. It is up to you to smash up everything and everyone in order to destabilize the ATO. Use any item available to begin fighting, including pipes, bricks and benches – even dismembered body parts.
It?s a riot – a total free-for-all where you have to beat up everything and everyone in order to make your way through the game.
118 diverse and entertaining missions range from protection to punishment.
Over 250 people on screen at once ? including Corporation enforcers, ruthless gangs and innocent civilians ? you?ll have to act strategically to not harm the civilians and to defeat your enemies.
Choose from one of five rebels, each with different strengths and weaknesses, each with their own underlying motives for toppling The Corporation.
Deep selection of hand-to-hand fighting moves including deadly combinations to master, back attacks, special attacks to free yourself from a crowd, grab attacks and dash attacks. The beatings continue right down to the ground with foot stomp attacks and punches.
Tons of super-destructive weapons help you cause mayhem on the streets of Capitol City. The full arsenal includes a pistol, Uzi, AK47, M16, Flame Thrower, Rocket Launcher, Molotov Cocktail, Tazer and Pepper Spray.
4 enormous and fully interactive environments include the Mall, Chinatown, the East Side and Corporation Central.
Completely interactive environments let you smash up your surroundings, pick up environmental objects and interact with any of the characters displayed on screen.
Whether it is Corporation death squads or ruthless gangs, prepare to fight a LOT of enemies at one time.
Absolute mayhem prevails as hundreds of people fill the screen! The citizens of Capitol City have individual reactions to the events around them, some will fight while others cower in fear.
Watch yourself – Corporation Enforcers prowl the streets looking to stop trouble and are ready to use any and all means necessary to do so.