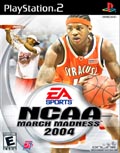 TITLE NCAA March Madness 2004
GENRE Sport
PLATFORM PS2
DEVELOPER EA Sports
US PUBLISHER Electronic Arts
UK PUBLISHER N/A
NORDIC PUBLISHER N/A
ONLINE PLAY Yes
Media Screenshots:
SCREENS ADDED: 09 Jul-2003
Official Fact Sheet:
NCAA March Madness 2004 storms the court with new schools, improved gameplay, and an incredibly deep Dynasty Mode?. Dick Vitale, the voice of college hoops, takes you through the sport?s strategy and drama all the way to the ?Big Dance? like no one else can. The unique, fast-paced game comes to life with players applying pressure D, diving on loose balls, and throwing it down against rival schools. You can also connect to EA SPORTS? online for the PlayStation 2 for matchup gameplay, tournaments, downloadable content, and more. Featuring EA SPORTS Freestyle Control and strategic expertise from the EA SPORTS Coaches Council, NCAA March Madness 2004 delivers the authentic emotion and passion that can only be found in college basketball.
Build a Dynasty: With an incredibly deep Dynasty Mode, you have up to 30 years to build your own powerhouse. Recruit the top high school players in the country, play in the EA SPORTS Roundball Classic, train your players during the offseason, customize your non-conference schedule, and play your way into the EA SPORTS Top 25 as you fight for your ticket to the ?Big Dance.? A ticker with updated scores even updates you on your opponents during the season.
EA SPORTS Coaches Council: With the EA SPORTS Coaches Council, users get scouting reports, strategies, and other unique advice and input from coaches representing every major conference in Division I. Rick Majerus, Gary Williams, and Billy Donovan are just a few of the bright minds helping to devise a winning game plan.
School Spirit: A college basketball game just wouldn?t be the same without the cheerleaders, bands, and raucous crowds that help make the sport special. NCAA March Madness 2004 not only has all the action covered on the court but incorporates all the game?s unique sights and sounds. New post-game celebrations, cheerleaders, mascots, arenas, and specific crowd chants and fight songs are included in 2004.
Team Specific Quick Play Strategies: Maximize your school?s strengths with team specific offensive and defensive sets at your fingertips. Turn up the heat on D with a full-court press or lock down your opponent with a variety of pressure man-to-man or zone defenses. On offense, race the ball up the court to devastate your opponent in transition, get the ball into the post, or isolate your defender on the perimeter?whatever it takes to win.
The Ultimate Roster: With the addition of more than 150 new schools, NCAA March Madness now features every Division I basketball program in America. Pick from more than 300 different schools, large or small, to take all the way.
EA SPORTS Freestyle Control: String together ankle-breaking moves by using the right analog stick. Sweet crossovers, triple threat moves, post moves, and strip steals all add to the non-stop action of college hoops.
EA SPORTS Online Competition: Take on opponents from anywhere in the country (PlayStation 2 only). An online lobby area allows gamers to meet, greet, chat and play NCAA March Madness head to head.
Going Deep: In addition to going online, NCAA March Madness 2004 also features new Mascot and Rivalry Modes. Battle with team mascots like Syracuse?s Otto the Orange or the Stanford Tree for added entertainment, or turn up the intensity in big-time rivalry games like Duke vs. UNC.
EA SPORTS Bio: Memory card based tracking/rating system recognizes and rewards gamers for playing multiple EA SPORTS titles.