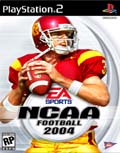 TITLE NCAA Football 2004
GENRE Sport
PLATFORM PS2
DEVELOPER EA Sports
US PUBLISHER Electronic Arts
UK PUBLISHER N/A
NORDIC PUBLISHER N/A
ONLINE PLAY Yes
Media Screenshots:
SCREENS ADDED: 09 Jul-2003
Official Fact Sheet:
Kicking off the 2004 sports videogame season, NCAA Football 2004 relives the intense rivalries, pageantry, and spirit of college football. Celebrate the history of college football with classic teams like the 1924 Notre Dame Fighting Irish, or replay one of the 20 greatest college football games from the last two decades.
NCAA Football 2004 features new pre-game tunnel presentations, EA SPORTS? Talk in-game chat (PlayStation 2 broadband only), and the joy of ripping down the goalposts after an emotional victory over your biggest rival. No other college football game delivers the spirit, atmosphere, and emotion of college football rivalries like NCAA Football 2004.
College Gameplay: New features include new playbooks with trick plays and mass substitutions, improved AI with zone coverage, block and release, and bump and run, greatly improved kickoff and punt return AI, user-controlled celebrations, and new cameras angles with Rollout Cam and Play Action Cam. New animations include sideline tackles, catches, stumbles, and passing.
College Atmosphere: An atmosphere overflowing with pageantry, tradition and excitement includes 20 new mascots. Storm the field in a new post-game celebration following a big upset and rip down the goalpost. Upgraded stadiums include a new pre-game tunnel presentation and an authentic team entrance from Notre Dame.
EA SPORTS Online Competition (PlayStation 2 only): Global login that works across all EA SPORTS titles allows you to create up to four user names, and Messenger finds, manages, and messages your friends while playing. Track online performance with Online Top 100 and stat leaders. EA SPORTS Fair Play feature prevents cheating, and EA SPORTS Talk allows talk in-game (broadband only).
Deeper Dynasty Mode?: Get Dynasty rankings and fresh covers and stories each week on a magazine cover; other new features include new Maxwell, Groza, and other player awards, a new coaching contract system, and new recruiting tactics.
Improved graphics and presentation: New details include historic player models including styles from the 1920s through 2002, players, coaches, and referees with more emotion reflected in all new facial animations, and player detail down to dreadlocks, forearm pads, weather-based accessories, and more.
New College Classics Mode: Rewrite history as you replay one of the 20 greatest games of the last two decades by taking over in a key game situation.
Over 150 New Teams: Play as one of 36 new 1-AA teams including teams from the Southern, Big Sky, A-10, and Gateway Conferences. Over 100 new Classic Teams include 1930 Notre Dame and 2002 Ohio State.
My NCAA?: Write your own page in NCAA Football history: track your most memorable games ever with Greatest Games, and track new career and school records in the Record Book. The trophy room features all-new individual player awards, more Bowl games, rivalries, and conference championship trophies. Campus Challenge is now available in two-player games so you earn more credits.
New EA SPORTS Bio: Memory card based tracking/rating system recognizes and rewards gamers for playing multiple EA SPORTS titles.
Sound Enhancements: Improved TV commentary including stat banners and more from the broadcast super team of Kirk Herbstreit, Brad Nessler, and Lee Corso.