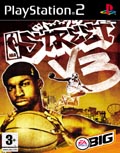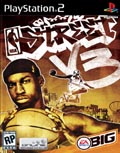 TITLE NBA Street V3
GENRE Sport
PLATFORM PS2
DEVELOPER EA Games
US PUBLISHER Electronic Arts
UK PUBLISHER Electronic Arts
NORDIC PUBLISHER Electronic Arts
ONLINE PLAY Yes
Media Screenshots:
SCREENS ADDED: 22 Dec-2004
Official Fact Sheet:
Soar above the rim and leave your mark as NBA STREET V3 hits the pavement with basketball like you?ve never seen ? 3-on-3, over-the-top, and larger than life. V3 builds on the game-proven, platinum-selling gameplay of the STREET series with new tricks and high-flying dunks. All new Trick Stick and interactive Gamebreaker control elevates the game to new heights with unmistakable style and attitude
Featuring today?s biggest NBA stars, a collection of the league?s all-time greats, and a Hall of Fame cast of past STREET characters, NBA STREET V3 is non-stop, fast-paced, action-packed, in-your-face fun. It?s as simple as that.
NBA STREET V3 is packed with highly-detailed authentic street courts, deep player customization options, new Court Creator, and sick online play. Put your rep on the line in the ultimate proving ground: the street courts of NBA STREET V3.
Trick Stick: NBA STREET V3?s all-new Trick Stick provides gamers with complete control of the rock. Perform crazy dribble tricks on demand by combining turbo buttons and pushing the right stick on your controller of choice in various directions. String together tricks into combos to build up to a jaw-dropping Gamebreaker moment
Gamebreaker: Having made the STREET franchise famous, Gamebreaker moments are revamped to offer an entirely fresh experience in NBA STREET V3. Build a Gamebreaker by stringing together combos, and then get your teammates involved in the ultimate interactive three-man aerial show.
Sweet Players, Big Game: Your favorite NBA heroes of past and present?hyper-real and larger-than-life?are at your fingertips. Choose from top stars on each of today?s NBA teams, 25 NBA greats, and a cast of past STREET favorites.
Authentic Courts: V3 features 12 carefully modeled authentic courts. From NYC to Cali to Europe, NBA STREET V3 features courts from Rucker Park, Venice Beach, Mosswood, Brighton Beach and more. From courts set in the scorching summer sun to the harsh darkness of night, no detail is too small in this diverse collection of streetball?s most hallowed grounds and hot up-and-coming sanctuaries.
Court Creator: Build and customize your home court from the ground up. Add your own flair by choosing from hundreds of different options including location, court surface, net, and backboard styles. The all-new Court Creator allows you to define your personal playground.
Dunk Contest: The dunk contest hits the street as an all-new game mode in NBA STREET V3. Show if you?ve got what it takes to execute big air slams, as NBA STREET V3?s Dunk Contest allows ballers to link together combos in mid-air and take your best shot at impressing an all-star panel of judges.
Bold Expression Through Customization: Express yourself by building your own hoops persona with more than 1,000 customizable assets including hairstyles, shoes, and accessories.
Take Your Game Online: Represent online against the nation?s greatest ballers?anywhere, anytime.