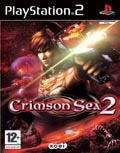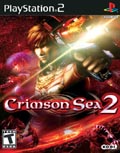 TITLE Crimson Sea 2
GENRE Action
PLATFORM PS2
DEVELOPER KOEI
US PUBLISHER KOEI
UK PUBLISHER TECMO KOEI Europe
NORDIC PUBLISHER TECMO KOEI Europe
ONLINE PLAY No
Media Screenshots:
SCREENS ADDED: 01 Jan-2005
Official Fact Sheet:
Millions of light years away in the star system Theophilus, an unknown evil threatened mankind, an evil defeated by 'Sho' ? a rare human alien hybrid known as the 'VIPA', who is the game's main character. However, that was only the beginning.
Two years on (after the first Crimson Sea ? Xbox exclusive) the 'IAG' ? the agency charged with the protection of the galaxy ? is in a state of near collapse. Still reeling from a massive surprise attack, IAG commander 'Live-D' organises the remaining forces along with a rag-tag team of mercenaries and survivors. Sho's old friends from G-Squad are dispersed to different areas of the galaxy but in light of the devastation, Sho searches for more help.
This help comes in the form of a new playable character and three new modes of play! The original Crimson Sea was known for its guns with girls and a voluptuous commander who called all the shots. CS2 introduces a new femme fatale in 'Feanay', a 'VIPA' with her own unique NeoPsionic powers. During the game, fulfilling certain conditions lets players switch between Sho and Feanay, unlocking new character specific missions.
In addition to the main single player mode, CS2 now includes 3 two-player modes. Players can work together to bring down the enemy in 'Co-op' mode, battle head to head 'Death match' style in 'Versus' mode or try to outscore their human opponent in 'Competition' mode.
With non linear game progression and over 60 different missions, players can choose from among several missions created for each stage. Players may be asked to penetrate an enemy stronghold and gather intelligence, or rescue a stranded dignitary. Even after declining a mission, the player can still develop a character's attributes and weapons while exploring a stage. This allows the player to later accept a mission that was previously too difficult to complete.
Along with a variety of new weapons and effects, CS2 also features a series of enhanced NeoPsionic attacks ? deadly energy waves that change the tide of the battle in a single move. By combining various weapons and NeoPsionic techniques, a player can attack hundreds of enemies in a minute and achieve thousand hit combos.
With the introduction of new characters, modes of play and an expanded story, CS2 will transport gamers into a fantastic world filled with fear and tension. Gamers will be seized by premonitions of looming danger. The deafening sounds of a stuttering heartbeat, and the eerie hum of distant machines will serve as a prelude to the impending alien onslaught and ballet of bullets.
Over 60 highly detailed, challenging and detailed levels and missions
3 difficulty settings
Varied 2-player mode, including 'Co-op', Versus and Competition mode
A plethora of items to buy/sell and level up
A fully comprehensive tutorial
Brand new engrossing storyline
Cinematic sound and action supported by Dolby Pro Logic II