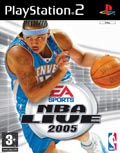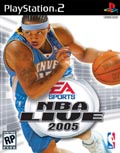 TITLE NBA Live 2005
GENRE Sport
PLATFORM PS2
DEVELOPER EA Sports
US PUBLISHER Electronic Arts
UK PUBLISHER Electronic Arts
NORDIC PUBLISHER Electronic Arts
ONLINE PLAY Yes
Media Screenshots:
SCREENS ADDED: 16 Jan-2007
Official Fact Sheet:
The Freestyle Revolution is back with NBA LIVE 2005. Elevate your game on both ends of the court with EA SPORTS Freestyle Control, which continues to be the benchmark for innovative control in a sports videogame. Create new ankle-breaking dribble moves, gravity-defying highlight-reel dunks, and tenacious defensive plays that express your individual style-all with a touch of the right-analog stick. All-new 10-man Freestyle implementation enhances individual player movements and floor spacing, putting you right in the middle of the action for the most realistic simulation ever created. Enhanced player graphics vividly reproduce each NBA player with the most realistic faces, hairstyles, jerseys, and shoes ever produced. A comprehensive offering of incredibly deep game modes, including Dynasty Mode? and EA SPORTS Online, put you in the middle of the action like never before. Levitate and create with NBA LIVE 2005.
EA SPORTS Freestyle Control: EA SPORTS Freestyle Control continues to revolutionize your ability to play simulation basketball-and, now more than ever, it's about expressing your game in flight. Become an offensive star with sweet new moves that you'll only see on the NBA hardwood, including all-new dunks, jaw-dropping alley-oops, and adjustable jump shots in mid-air. Think the Pro Hop took hoops to a new level last year? New user-controlled put-back and tip-in technologies reward players who box out, wipe the glass, and go back up for a quick bucket. On defense, take more control over shot blocking to own the paint.
10-man Freestyle: NBA LIVE's new iteration of revolutionary 10-man motion capture technology yields authentic plant-and-cut animations, off-ball animations that offer new spacing and eliminate on-court crowding, backdoor cut scenarios, and new in-air collisions and box out scenarios.
All-Star Graphics: With increased resolution on player faces, jerseys, shorts, skins and tattoos, NBA LIVE 2005 raises the bar and offers the most visually immersive NBA game to date.
Ball Against the Nation: EA SPORTS Online* allows users to play online against opponents from anywhere in North America (*only available on the PlayStation 2 console). An online lobby area allows gamers to meet, greet, chat, set up tournaments, download roster updates, and play NBA LIVE 2005 head to head. Make it to the top, and then try to maintain your place as the best gamer any where, any time, any place.
Comprehensive Dynasty Mode: Be the architect of your own unstoppable dynasty, and watch your franchise flourish for 25 seasons. Jump into games with simulation intervention, enjoy all-new free agency logic that puts your skills at negotiating contracts and managing the salary cap to the test, and use the customizable PDA to stay up to date with important league news, team information, special announcements, and more.
Announcers: No voice says NBA basketball like Marv Albert. Teamed with on-air TV partner Mike Fratello, these two hoops veterans pair dish out the most authentic commentary available.