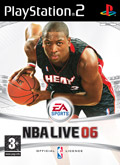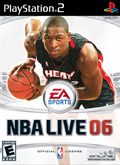 TITLE NBA Live 06
GENRE Sport
PLATFORM PS2
DEVELOPER EA Sports
US PUBLISHER Electronic Arts
UK PUBLISHER Electronic Arts
NORDIC PUBLISHER Electronic Arts
ONLINE PLAY Yes
Media Screenshots:
SCREENS ADDED: 27 Aug-2005
Official Fact Sheet:
Be an NBA superstar and own the court in NBA LIVE 06, which captures the emotion and intensity of the complete basketball experience like no other pro hoops simulation on the market.
The evolution of the EA SPORTS Freestyle Control continues with all-new EA SPORTS Freestyle Superstars. Users now dictate the actions of the top NBA stars with full user control over dazzling passes, rebounds, dunks and steals within 5-on-5 gameplay. With the superstars of the NBA playing like their real-life counterparts, Playmakers deliver fast break Freestyle passes on the fly, Stoppers control the paint, and Power players dominate the opposition with powerful user-controlled dunks. An enhanced transition game yields an up-tempo, fast-break, and physical brand of basketball that features players running the lanes and awaiting the open pass.
With the NBA LIVE 06 advancements in gameplay and enhanced player graphics, the NBA's superstars look and play more like their real-life counterparts than ever before. A rich collection of game modes adds to the deepest offering of NBA LIVE ever – including Dynasty Mode?, EA SPORTS? Online, and NBA All-Star Weekend.
EA SPORTS? Freestyle Superstars: NBA LIVE 06 puts users in control of the NBA's top players with all-new EA SPORTS Freestyle Superstars. Star players perform like their real-life NBA counterparts based on distinct character types, including Power, Playmaker, Stopper and more. Playmakers dish out no-look and behind-the-back passes on command. Stoppers block shots, steal and rebound like only the best defenders in the NBA. Power players have a dizzying array of thunder dunks found only in the top NBA All-Stars.
Authentic 5-on-5 Gameplay: The NBA LIVE 06 all-new animation system helps to visually present the up-tempo, fast-break brand of basketball that makes the NBA thrive. NBA LIVE 06 also features an improved transition game and a more physical brand of play with collisions and dunked-on scenarios.
New Player Visuals: A new graphics engine increases the resolution on player models and body types to unprecedented levels. Players not only play and act like their real life counterparts, but they look the part with striking detail and realism.
The Voices of the NBA: Joining Marv Albert is new color commentator and former NBA star Steve Kerr. The on-air TV partners call the 5-on-5 action, while Ernie Johnson and Kenny Smith bring their own unique flavor to the Slam Dunk Contest and 3 Point Shootout in the popular NBA All-Star Weekend mode.
NBA All-Star Weekend: Back and better than ever, NBA All-Star Weekend allows users to create new jaw-dropping dunks as they compete in the Slam Dunk Contest. Also featuring the 3 Point Shootout, the Rookie Challenge, and the NBA All-Star Game, All-Star Weekend is available as a stand-alone game mode as well as within Dynasty Mode.
EA SPORTS Online: Now available for the PlayStation?2 computer entertainment system and on Xbox Live?, EA SPORTS Online allows users to play online* against opponents from anywhere in North America and gives gamers the opportunity to meet, greet, chat, set up tournaments, download roster updates, and play head to head.