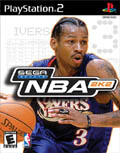 TITLE NBA 2K2
GENRE Sport
PLATFORM PS2
DEVELOPER Visual Concepts
US PUBLISHER SEGA of America
UK PUBLISHER N/A
NORDIC PUBLISHER N/A
ONLINE PLAY No
Media Screenshots:
SCREENS ADDED: 17 Mar-2005
Official Fact Sheet:
Can you say "Dynasty?" After two years of roundball domination on Dreamcast, Sega Sports unleashes its award-winning NBA franchise on the next-generation basketball court with NBA 2K2. Building upon a foundation of vibrant graphics and crisp, detailed player animation, NBA 2K2 talks the talk and walks the walk! High pick and roll? We got it! Killer crossover? Its in there! The big mans game? You betcha! On offense, use the versatile low post game to drop step around your defender and explode past him for a posterizing dunk, back him down into the key and pull up for a sweet hook, or lull him to sleep and pass to the open man. Tight AI defenders take away the baseline, deftly rotate to the open man, and establish rebounding position in the paint.
Authentic NBA play — Defensive player rotation, intelligent ball movement, pick and rolls, smart coaching decisions, and explosive moves deliver the true NBA basketball experience.
Devastating new low post moves, exclusively captured by NBA All-Star Rasheed Wallace — Exploit your defender with a quick drop step, back him down into the key, pull up for a sweet fadeaway, or pass to the open man.
New timing steal — Time your steals to jump in the passing lane to grab the ball or steal it out the ball handlers hand while he attempts a spectacular move.
Broadcast-quality presentation — Dramatic camerawork, inspired commentary, TV-style overlays, and exciting crowd reactions give the user the best seat in the house!
All new playbooks and play system — Recreate NBA team plays and authentic coaching styles. Use the system to give your best offensive weapon the opportunity to embarrass his opponent.
Enhanced one-on-one game — New moves and countermoves highlight the individual match-up experience. Master the new crossover and low post moves, but beware of a well-positioned counter.
Next-gen powered graphics — Detailed arenas and realistic player models with facial expressions that bring to life the emotions of the NBA player.
Contextual player reactions — more realistic face-up stances, players run toward the shooter to blocking three-pointers, and automatic ball protection are just a few of the intelligent animations seen in the game.
Real street courts — Hoop it up at nine of the most famous playgrounds around the country, such as Rucker Park or Venice Beach.
Up-to-date rosters, uniforms, signature moves, and NBA rules for the 2001-2002 season — Play man or zone defense!
New animations — More than 2200 total animations capture the elegance of the NBA game.
Original soundtrack produced by star producer Jermaine Dupri and the Beatminerz