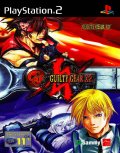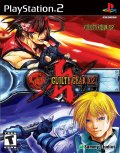 TITLE Guilty Gear X2
GENRE Action
PLATFORM PS2
DEVELOPER Sammy Studios
US PUBLISHER High Moon Studios (Sammy)
UK PUBLISHER Zushi Games
NORDIC PUBLISHER Zushi Games
ONLINE PLAY No
Media Screenshots:
SCREENS ADDED: 09 Jun-2006
Official Fact Sheet:
Guilty Gear X2 is the sequel for PS2 based on the popular 2D fighting series. Guilty Gear is set in the 22nd century, where a new sustainable energy dubbed ?Magic,? expected to eradicate polluting, conflict-inducing technologies, is instead used to create terrible biological weapons called ?Gears.? Guilty Gear X2 revives the fighting tournament designed to find humans skilled enough to thwart the Gear threat. The game offers entirely new features, play modes, and a whopping six new characters joining the most unique cast of fighters ever conceived. The series? trademark superb graphics, character detail, fast-paced play and renowned fight system are greatly enhanced for the PS2 sequel, including all-new maneuvers and additions to every character?s arsenal.
Six new characters, totaling an amazing 20 fighters in all!
Eight play modes, including new modes that build on the series? story-driven action
Electrifying new features and battle maneuvers, such as the all-new Burst Gauge
Entirely new moves, greatly improved fighting system and enhancements to trademark Guilty Gear moves such as ?dust attack,? ?roman cancel? and ?instant kill?
Mind-numbing gameplay speed coupled with mind-blowing animation
Amazing character design and premise from renowned artist Daisuke Ishiwatari
Killer soundtrack, with numerous rock-and-roll and heavy metal references throughout the game