PS2 Games
Capcom Fighting Jam (AKA Capcom Fighting Evolution)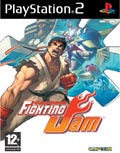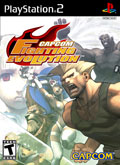 TITLE Capcom Fighting Jam (AKA Capcom Fighting Evolution)
GENRE Fighting
PLATFORM PS2
DEVELOPER Capcom
US PUBLISHER Capcom
UK PUBLISHER Capcom
NORDIC PUBLISHER Capcom
ONLINE PLAY No
Media Screenshots:
SCREENS ADDED: 22 Oct-2005
Official Fact Sheet:
Capcom Fighting Evolution features a diverse cast of characters as well as additional hidden characters from each of the following titles: Street Fighter II, DarkStalkers, Street Fighter III, Red Earth and Street Fighter Alpha. Each character maintains their unique fighting style from their respective title, so players must strategically use each one?s combat system to defeat that of their opponent as they square off in battle. With two-on-two action, gamers can mix and match their team from any of the different titles. The character change system allows players to choose a combatant for each round of the battle. Pitting the right competitor against the opponent based on the strengths of the fighting systems will be the key to victory.
Characters from 5 classic Capcom titles:
Street Fighter II – Ryu, Guile, DarkStalkers – Demitri, Felicia, Street Fighter III – Yun, Chun-Lim Red Earth – Leo, Hauser, Street Fighter Alpha – Guy, Sakura
Plus additional hidden characters!
Two-on-two team battles – Choose a character for each round of battle; strategically pick the combatant based on the opponent?s powers and weaknesses
Classic 6 button control scheme
Title specific combat systems – Characters maintain their original fighting styles from their specific titles
Several gameplay modes:
Arcade mode – Defeat CPU characters in set number of rounds to reach the ending
Vs. mode – Exclusive battle mode where the player selects the characters, handicap settings and stages
Survival mode – Choose to battle all characters from the game in one sitting or keep fighting enemies until you lose
Training mode – Practice a variety of techniques on CPU characters; even record and review your gameplay to improve your skills
Gallery mode – View character illustrations, endings and additional items earned by clearing the various game modes
Game Replay mode – Save and view replays of your favourite battles
Option mode – Change settings including difficulty, match time, key configuration and more