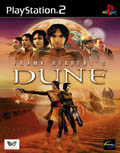 TITLE Frank Herbert's Dune
GENRE Action
PLATFORM PS2
DEVELOPER Widescreen Games
US PUBLISHER N/A
UK PUBLISHER N/A
NORDIC PUBLISHER N/A
ONLINE PLAY No
Media Screenshots:
SCREENS ADDED: 15 Oct-2005
Official Fact Sheet:
In the year 10191, House Atreides and the Harkonnen fight a bloodthirsty battle for the control of the desert planet Arrakis (Dune). It's only resource is Spice, the only commodity that will ensure its people a long life and greater economic powers. Only two Atreides will survive the all out massacre masterminded by the sinister Harkonnen. These include Paul Atreides, the son of Duke Leto and heir to the Atreides throne, and his mother, Jessica. The pair narrowly escape and seek vengeance over Harkonnen. The game player takes on the role of Paul and joins the tribe of Fremen, a native tribe of Arrakis, with the sole aim of saving the day and restoring the planet Dune to its rightful state of independence.
During the two years with the Fremen, the storyline revolves around Paul and his integration into the very heart of the Fremen tribe. Spies, intrigue and assassination attempts are everyday occurrences for Paul. The atmosphere is clearly felt and meticulously reproduced throughout the game. You play one of two survivors from the apocalyptic aftermath of the Atreides massacre plotted by the diabolical Baron Harkonnen.
As Paul, you must undertake many missions and display your bravery and worth. You must destroy the Spice smugglers, harass the Harkonnen, sabotage factories, discover new hiding places to stock spices, and so forth. During your missions, you will be forced to explore all known places on Dune. By doing so, you will be able to perfect your fighting techniques. Prepare yourself for battle and knife combat, and practise the powers that will make you an exceptional being and an invincible force to be reckoned with.
The essence of the game is based on action fuelled with finesse and discretion. The art of infiltration, of going unnoticed and striking the enemy, stealing plans and information without the enemy noticing; are just some of the aims of the operations led by the Fremen in preparation for their final attack…and the ultimate fight for solidarity and independence.
Dune is a stunning 3D real-time extravaganza that is 2/3 action and 1/3 adventure