PS2 Games
Eureka Seven Vol. 2: The New Vision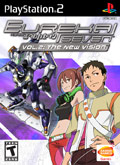 TITLE Eureka Seven Vol. 2: The New Vision
GENRE Action
PLATFORM PS2
DEVELOPER Namco Bandai
US PUBLISHER Namco Bandai
UK PUBLISHER N/A
NORDIC PUBLISHER N/A
ONLINE PLAY No
Media Screenshots:
SCREENS ADDED: 21 Mar-2007
Official Fact Sheet:
After abandoning the corrupt military and becoming a professional lifter, Sumner Sturgeon has become disenchanted with the life of an air sport athlete. Fate intervenes when his lost love returns and enlists his help to discover and stop the creation of the dangerous CFS (Compact Feedback System). Join Sumner on his quest to find the truth, compete in lift races, and pilot over 17 powerful LFOs (Light Finding Operations) in a variety of thrilling gameplay modes such as Story Mode, Survival Mode, Dream Match and Conflict Mode. With an enthralling storyline that arrives at the dawn of the anime series, this anticipated title promises to deliver an enduring action-propelled experience.
Pilot New LFOs: Choose from up to 17 different LFOs to pilot, each with different looks, attacks, and weapons!
Multiple Gameplay Modes: Test your skills and see how long you can last against waves of enemies in Survival Mode, perform special missions and employ new combat techniques in Conflict Mode!
New Gameplay Features: Utilize your piloting skills to survive the frentic Rail Ride Mode, and use Rider?s High to slow down time and dispatch your enemies.
Dream Match: Choose your favorite pilot and LFO to fight solo or side by side with your allies over five stages!
That Character Looks Familiar: Eureka Seven Vol. 2: The New Vision leads right up to the beginning of the anime series, includes many characters that are on the TV show, and is penned by the creator of Eureka Seven!