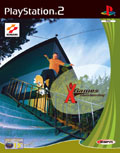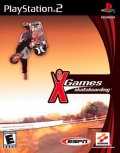 TITLE ESPN X Games Skateboarding
GENRE Sport
PLATFORM PS2
DEVELOPER Konami
US PUBLISHER Konami Digital Entertainment
UK PUBLISHER Konami Digital Entertainment GmbH
NORDIC PUBLISHER Konami Digital Entertainment GmbH
ONLINE PLAY No
Media Screenshots:
SCREENS ADDED: 09 Oct-2005
Official Fact Sheet:
ESPN the games takes sports gaming to the X-treme with X-Games Skateboarding ? the ultimate rush in skateboarding for PlayStation 2. Three "Tournament" stages and six "Action/Fantasy" stages let X-gamers go head to head as they grind rails, hit jumps and catch huge air, plus perform intense tricks and maneuvers. The title integrates advanced graphics, arcade-style gameplay with simulation moves, and includes authentic X-Games events and riders such as Bob Burnquist. A crankin' soundtrack with high-intensity artists pushes gamers over the edge and into the true lifestyle that is X-Games.
Three Amazing Tournament Stages: Gamers can recreate the 2000 X Games in San Francisco as they grind rails and hit jumps all over the street course or go huge and grab major air in the vert halfpipe.
Take It To The Streets: New York and Los Angeles are just two of the cities offered in six action stages that enable riders to maneuver around cars, grind on handrails and perform sick tricks in detailed urban and fantasy settings.
Practice Makes Perfect: Insane air is just a halfpipe away. The practice mode offers interactive tutorials for tricks and combinations. Gamers can also get expert advice from the pros.
Head-To-Head Competition: Gamers can compete in an in-your-face demonstration of skills as they challenge a second player in a two person split screen mode.
Get Real: Be a pro skateboarder for a day by selecting any of eight top notch pro skateboarders. Ride in style with all of their sponsors and equipment.
Endless Options: Choose from 64 authentic skateboards with different speeds and handling characteristics.
Crankin' Soundtrack: Featuring more than 11 high-intensity tunes from artists, such as Linkin Park, New Found Glory, Voodoo Glow Skulls and more.