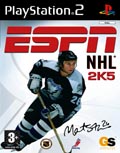 TITLE ESPN NHL 2005
GENRE Sport
PLATFORM PS2
DEVELOPER Visual Concepts
US PUBLISHER SEGA of America
UK PUBLISHER Take 2
NORDIC PUBLISHER Take 2
ONLINE PLAY Yes
Media Screenshots:
SCREENS ADDED: 16 Dec-2004
Official Fact Sheet:
Poised to defend its title as the #1 rated hockey video game*, ESPN NHL Hockey returns to the ice with the confidence of a seasoned veteran. Improved player control, an all-new fighting engine and lightning fast gameplay truly capture the feel and pace of NHL-caliber hockey. Plus, breakthrough new ways to play including online leagues, multi-player mini-games and a deeper franchise mode add endless replay value to an already robust lineup of features. With an exclusive ESPN presentation system — including on-ice action called by Gary Thorne and Bill Clement — ESPN NHL Hockey 2005 makes skating with the NHL?s elite a reality!
Intense Contact Controls?? A completely re-designed fighting engine offers full-movement fighting — including grappling, dodge, grab, and multiple punch moves — while improved checks and new contact moves help keep your opponent at bay.
Always Online ? The standard-setting online quality that you have come to know from ESPN Videogames now includes online leagues and tournaments, a real time sports ticker that gives updates of other games in progress, and an advanced messaging system and buddy list that let?s you keep in touch with your opponents at any time.
The NHL?s Elite ? The Dream Team Challenge pits you against a ladder of all-star teams hand-selected by the some of hockey?s most colorful personalities
Expanded Skybox ? Deeper and more interactive than before, this season?s Skybox features more than150 unlockables, including more retro jerseys, remote outdoor locations and more.
Full Stick Control ? Execute sliding poke checks, swipe at loose pucks and more with new defensive stick controls that give you hands-on stick movement in a variety of defensive situations.
Best presentation on the market ? The exclusive ESPN presentation system has been enhanced with locker room and JumboTron cut scenes, more commentary, more crowd chants, more music with custom sound tracks, and yes, ice girls.