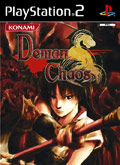 TITLE Demon Chaos
GENRE Action
PLATFORM PS2
DEVELOPER Konami
US PUBLISHER N/A
UK PUBLISHER Konami Digital Entertainment GmbH
NORDIC PUBLISHER Konami Digital Entertainment GmbH
ONLINE PLAY No
Media Screenshots:
SCREENS ADDED: 01 Sep-2006
Official Fact Sheet:
The challenge never lets up in Demon Chaos for PlayStation 2. Wave after wave of hellish beasts must be destroyed by players directing their army?s strategy in addition to fighting one-on-one with their enemy on the battlefield.
Demon Chaos is set against the backdrop of feudal Japan, in the year 1543. While the civil war rages, legions of demons suddenly emerge from Lake Suwa and all of mankind finds itself under threat. The gods decide to send a hero to lead the reunited human forces, and the player becomes this immortal warrior.
Technically stunning, Demon Chaos portrays its fantastical state of affairs with over 60,000 enemies visible on screen at any time. Owing to his immortality the hero marches straight into the heart of the battle without fear for his own safety, whereupon the game?s 3D realm is spectacularly realised with close-ups of the brutal action. Part of the thrill is to engage in hand-to-hand combat with the demons, chaining moves together to trigger more powerful attacks. These scenes become even more impressive as players discover items to enhance their hero?s powers.
However players are also responsible for the welfare of their armies, requiring strategic elements to overwhelm the various enemy formations while preventing loss of life. Should the demons slay all the humans, the battle is lost. Not only is Demon Chaos an amazing technical showcase for PlayStation 2, the clever symmetry to its all-action gameplay is truly unique.
Face more than 60000 adversaries on screen simultaneously
Epic battles between men and monsters in ancient Japan
Engage in hand-to-hand combat plus decide overall strategy
Protect your vulnerable comrades while fighting the enemy
Stunning visuals and unrivalled battle scenes unique on PS2