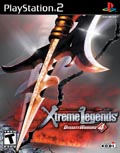 TITLE Dynasty Warriors 4: Xtreme Legends
GENRE Strategy
PLATFORM PS2
DEVELOPER Omega Force
US PUBLISHER KOEI
UK PUBLISHER TECMO KOEI Europe
NORDIC PUBLISHER TECMO KOEI Europe
ONLINE PLAY No
Media Screenshots:
SCREENS ADDED: 14 Dec-2004
Official Fact Sheet:
Dynasty Warriors 4 Xtreme Legends is the latest in the series of award winning stategic 3D beat 'em ups from KOEI's Team Omega Force. Based around the flowing battlefields and stunningly intense battle sequences of Dynasty Warriors 4, Xtreme Legends features all new enhancements never before seen in the DW series. DW4: XL can be played as a standalone game, but it also serves as an expansion pack for owners of the original fourth instalment.
KOEI has surpassed its previous efforts in the Xtreme Legends version of DW3 by creating a host of new features that add to the style and depth of Dynasty Warriors 4. Among other things, you'll be able to wield sharp new 11th weapons and items, all of which can be 'Re-Mixed' with the standard version, and have the ability to edit your officers and bodyguards, making for a fully customisable gaming experience.
Xtreme Legends features all of the fabled original characters straight from the start, so you don't have to worry about completing the game all over again. As with the Xtreme version of DW3, you again have the option to choose your bodyguard and customise pretty much any of his attributes, including gender, weapons, colour and even his name. Nothing about him has to be the same again. If, when recruiting your bodyguard, you decide to choose another playable character from the available line-up, the game allows you to utilize the double Musou attack without the need for a second player.
DW4: XL includes three new modes of game play to sink you sword into. Xtreme mode pits you against a series of short missions that aim to push you to your gaming limit. Your character will not recover from any damage received – how long can you last? Legend mode consists of 42 stages, each being unique to your character's exploits. The missions you face differ greatly; one minute you'll be fighting without your bodyguard's aid, and the next you'll be struggling to stay alive for a set amount of time. Finally, Challenge mode consists entirely of endurance style one-on-one duels. Along with the all new battles, DW4XL includes all four Challenge mode courses from the original Dynasty Warriors 4. Each duel you win makes your character stronger, giving you the chance to register for KOEI's online ranking. How does your character compare to others worldwide?
With a whole host of new game modes, weapons and features to play around with, plus the opportunity to customise your bodyguard to suit your every whim, Dynasty Warriors 4 Xtreme Legends should keep sword wielding, slicing and dicing, button bashing gamers going until the release of the next full instalment of this legendary series.
New Xtreme Mode offering randomly generated, high intensity battles
42 Legend Mode stages that follow the fabled exploits of each Dynasty Warrior
New Arena Challenge one-on-one duels
Weild powerful '11th weapons' and discover all new items
Remix DW4 with DW4XL using DW4XL's swap disc feature