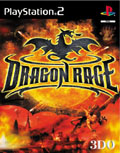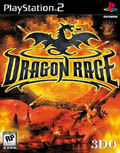 TITLE Dragon Rage
GENRE Action
PLATFORM PS2
DEVELOPER 3DO Studios
US PUBLISHER 3DO Studios
UK PUBLISHER 3DO Europe
NORDIC PUBLISHER 3DO Europe
ONLINE PLAY No
Media Screenshots:
SCREENS ADDED: 13 Mar-2005
Official Fact Sheet:
The Dragon Rage game infuses fast action gameplay with a new innovative aerial combat system, special effects and environments. Dragon Rage capitalizes on the nostalgia of fantasy by emphasizing gameplay mechanics and mission objectives built around imaginative play, flying around as a dragon and defending Dragon-kind in a land of monsters and magical beings. Dragon Rage brings to life a compelling story with vivid graphics, streamlined gameplay, intriguing characters and NPCs, and rewarding character development.
Across 16 action-packed single player and cooperative campaign levels, including six head-to-head multiplayer levels, Dragon Rage is a heroic story of revenge and redemption. For centuries, the Orcs have enslaved the dragon race in order to extract a powerful substance called Zeenium. This element provides dragons with their primary strength and fire breathing ability. Now the destiny of the entire dragon race hangs in the balance as they edge toward extinction. A young shackled Cael is in the grips of death as he approaches extermination above a molten pit.
Squeezing every last drop from the PS2 chipset fruit, an all-new game engine will create 16 unique and stunningly photo-realistic environments. Addictive and visually spectacular aerial gameplay will provide a rich and entertaining experience for players. Cinema quality FMV sequences seamlessly blend the storyline and missions.
To crush his enslavers, Cael can use 32 unique dragon attacks and magical powers to strike against the Orcs. Additionally, Cael can swoop down and grab enemies in his mighty claws, ram objects with his powerful head, or use his crushing jaws to devour foes.