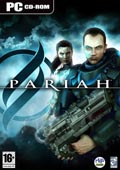 TITLE Pariah
GENRE FPS
PLATFORM PS2
DEVELOPER Digital Extremes
US PUBLISHER N/A
UK PUBLISHER N/A
NORDIC PUBLISHER N/A
ONLINE PLAY TBA
Media Screenshots:
SCREENS ADDED: 01 May-2005
Official Fact Sheet:
The pathogen is unknown. Dr. Jack Mason en route to assess threat levels. Request cryogenic containment of infected subject 'B': Karina J. All prisoner rights are hereby revoked under Section-4 of the Transgenic Containment Act. Evacuate non-essential personnel in preparation for possible thermonuclear containment protocol.
From the creators of Unreal? comes a spiraling plunge into destruction, despair and disease. Jack Mason is a burned-out doctor with no will to live, that is, until he nearly dies in a transport crash. Now he and his infected patient are stranded deep within the most vicious prison sectors of a wasteland called 'Earth'. In sixteen hours an orbital platform will initiate a total biohazard containment procedure: 50-megaton yield, detonated above sea level, to cleanse the contamination.
Known for creating games with incredibly rich dynamic graphics and mind-blowing fine-tuned gameplay, including the recent smash hit Unreal Tournament 2004, Digital Extremes is reaching beyond the limits with its most ambitious project to date. Pariah is utilizing the power of a heavily modified Unreal engine with state-of-the-art Havok physics technology that produces stunning settings, lifelike characters and tremendously satisfying in-your-face first-person action.
Can You Survive? A unique combination of action and stealth create an unprecedented single player gaming experience
Immersive Story written by professional Hollywood script writers takes FPS gameplay to a new level
Bleeding Edge Visuals with a heavily modified UnrealTM Engine combined with state of the art HAVOKTM physics technology
Emergent Tactical AI: Based upon the already spectacular UnrealTM AI, the enemies in PariahTM are much more aware of one another and work as a team to make them fierce foes
Use Your Senses including sight and sound awareness to track and outsmart deadly adversaries against overwhelming odds
Customize Your Arsenal using Weapon Energy Cores (WEC's) to build and customize your weapons with devastating results
Strategically Interactive Terrain: Use your surroundings to help you survive a variety of brilliantly designed futuristic earth environments
Unprecedented Multiplayer: Vehicles and customizable weapons come together to create the ultimate multiplayer experience online and off, from the developer who created the Unreal franchise