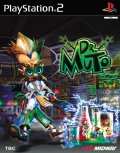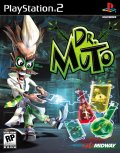 TITLE Dr. Muto
GENRE Action
PLATFORM PS2
DEVELOPER NetherRealm
US PUBLISHER Midway
UK PUBLISHER Midway
NORDIC PUBLISHER Midway
ONLINE PLAY No
Media Screenshots:
SCREENS ADDED: 07 Oct-2005
Official Fact Sheet:
In Dr. Muto, an all-new 3-D action-adventure videogame, players take on the personality of a proverbial "mad scientist," whose latest experiment accidentally destroyed his home planet, except for his laboratory. With his ingenious morphing technology, Dr. Muto hopes to rebuild his destroyed world by combining with living organisms in order to accomplish tasks no human could achieve — such as clinging to webs as a mutant spider or squeezing into tight spaces as a mutant mouse. As Dr. Muto, players harvest resources from 22 vast levels on four distinct planetscapes while encountering dangerous challenges, freakish monstrosities, and battling Muto's arch nemesis, the evil Professor Burnitall.
Explore 22 levels through four different worlds as players harvest resources and steal DNA to rebuild their home planet
Experiment with the fauna found throughout each world to complete DNA formulas needed to morph into six different creatures, each with unique abilities
Assemble and use fiendish devices, weapons and other gadgets that only Dr. Muto could invent
Use each world's native Gomer – genetically engineered slaves – to trigger switches, activate puzzles and for any other purpose Dr. Muto deems necessary
Overcome more than a dozen different enemy types including cybernetically modified robo-dogs, rent-a-cops and heavily armed security droids
Ready yourself for a full-on battle with the chief boss of each world before battling face-to-face with your arch nemesis, the evil Professor Burnitall, for universal supremacy
DVD content includes a behind-the-scenes interview with the developers and a feature on the evolution of Dr. Muto's early artwork