 TITLE DareDevil
GENRE Action
PLATFORM PS2
DEVELOPER 5000ft
US PUBLISHER N/A
UK PUBLISHER N/A
NORDIC PUBLISHER N/A
ONLINE PLAY No
Media Screenshots:
SCREENS ADDED: 01 Jan-2006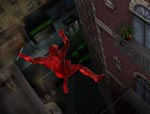 Official Fact Sheet:
The first game to feature one of Marvel Comics most popular superheroes. Daredevil is Matt Murdoch, a lawyer who was accidentally blinded by radioactive waste ? an accident that may have taken his sight but also heightened his remaining senses to superhuman levels.
Having seen his father, a once proud Boxer, killed by villains, Daredevil has sworn to make his home safe by battling the scum of Hells Kitchen ? by day as Lawyer Matt Murdoch but at night as the justice seeking Daredevil. Daredevil can tell whether you are armed by smelling the gunpowder in the bullets, hear a heartbeat from metres away and can read by feeling ink on a page.
Guide Daredevil as he tries to uncover two mysteries ? who has kidnapped his best friend Foggy Nelson and what part has his former love Elektra had in the apparent death of Gangster Leader Kingpin
Based upon the classic comic series but using costume designs from the upcoming movie.
Use Daredevils signature weapon ? his cane that transforms into a club and a grappling hook.
Battle Daredevil?s known enemies ? the Hitman Bullseye, The deadly but sexy female Assassin Elektra and the triad gangs of New York
A 3rd person perspective game that takes the player through Daredevil?s neighbourhood ? Hells Kitchen in NewYork.
Utilise Daredevils amazing acrobatic skills as well as his heightened senses ? ?Shadow Mode? will allow the player to ?see? in the way Daredevil does, revealing hidden aspects such as bullet vortexes and scent trails.