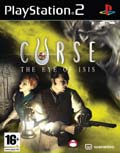 TITLE Curse: The Eye of Isis
GENRE Action
PLATFORM PS2
DEVELOPER Asylum
US PUBLISHER N/A
UK PUBLISHER Wanadoo Edition
NORDIC PUBLISHER Wanadoo Edition
ONLINE PLAY No
Media Screenshots:
SCREENS ADDED: 11 Dec-2005
Official Fact Sheet:
Curse is a dramatic horror action adventure based around the mysterious disappearance from a museum of a priceless Egyptian statuette "The Eye Of Isis". The statuette is protected by an ancient and evil curse that causes madness or violent death to all who come into contact with it. The curse manifests itself by raising diabolical mummified dead to exact violent revenge on the idols desecraters. The main object of the game is to recover the missing statue and return it via train and then cargo steam-ship to the heart of the pyramid from where it was originally removed.
The user controlled central hero, Darien Dane together with his close friend and assistant Verity are plunged into an adrenaline pumping nightmare scenario of murder, mystery horror and evil. Starting with a search for the missing statuette they examine the sprawling interior of a museum environment. Here the curses influence causes a variety of in-animate objects to come to life and attempt to kill them! They also encounter clues, characters and complex puzzles in their adventure to discover the location of the sacred statue.
Returning the statue ends the power of the curse and commits the angry Deities back to eternal sleep. This adrenaline-pumping horror adventure is also a frenetic race against time; throughout the journey the user risks being killed by the gory mummy hordes, their evil monster masters and ultimately a final physical manifestation of the curse itself.
All the elements of gameplay are linked together via a compelling underlying storyline delivered via rewarding realtime 3D animated cut scenes using the powerful in-game engine. Here new characters are introduced and plot settings and game information conveyed. The credibility of the storyline is also enhanced through realtime interactions within the game, through meeting non-player characters and via written and audio messages being sent to the user as they play.