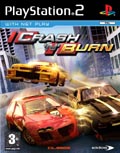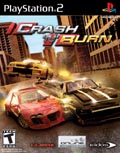 TITLE Crash 'n' Burn
GENRE Racing
PLATFORM PS2
DEVELOPER Black Rock Studio
US PUBLISHER Eidos Interactive
UK PUBLISHER Eidos Interactive
NORDIC PUBLISHER Eidos Interactive
ONLINE PLAY Yes
Media Screenshots:
SCREENS ADDED: 09 Nov-2004
Official Fact Sheet:
Prepare to enter the nitrous-fuelled world of Crash 'n' BurnTM. Crash 'n' Burn is a brutal arcade-style driving game where the aim is not just to win races, but to survive them!
Choose your car, paint it and personalise it. Build it up with new components, giant spoilers and reinforced fenders. Supercharge it, fill it with nitrous and take it to the back street circuits of Miami, San Francisco, L.A. and New York. You're at the back of the pack, grid position sixteen with fifteen cars ahead of you. Your primary objective is to take first place; your secondary objective is to run everyone else off the road. Crunch them into the barrier, rip, shred and tear sheet metal from their frames, leaving burning engine blocks and melted tires in your wake. The last driver with four wheels wins. Then do it again… online.
Crash 'n' Burn is the first ever driving game to provide online support for up to 16 players. From Race, to Kamikaze, through to Bomb Tag and Last Man Standing, the game has a wealth of game modes. Dodge on-track wreckage, fire trails and oil slicks as you destroy anyone who gets in your way of being crowned "Lord of the Mash-up".
Variety of game modes including: Race, Team Race, Kamikaze, Team Kamikaze, Running Man, Last Man Standing Team, Last Man Standing, Assassination, Running Man, and Bomb Tag
Multiplayer destruction with online support for up to 16 players online (PS2 and' Xbox)
Simultaneous online and offline game experience.
Comprehensive online ranking system
Customise and personalise your car with everything from paint schemes, to rims and' spoilers, to nitrous and more
"Emergent tracks" – tracks that change form during the course of the race due to car debris, fire-trails and oil slicks
Cause extreme crashes and as you engage in high speed driving through the back streets of Miami, San Francisco, L.A. and New York
Win races and destroy your competitors to gain experience points to unlock new modes and' vehicles and cash to buy upgrades
Four different vehicle types ? Pickup Truck, Muscle Car, Sports Coupe and' Hot Hatch ? each with their own distinct handling and performance
Realistic damage model allowing for shredded tyres, crumpled and torn bodywork, smashed windows and exposed engine blocks
Save and replay the mayhem with multi-angle player-controlled cameras set up throughout the courses