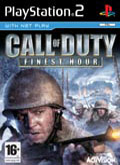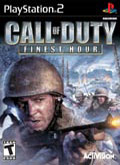 TITLE Call of Duty: Finest Hour
GENRE FPS
PLATFORM PS2
DEVELOPER Spark
US PUBLISHER Activision
UK PUBLISHER Activision
NORDIC PUBLISHER Activision
ONLINE PLAY Yes
Media Screenshots:
SCREENS ADDED: 12 May-2004
Official Fact Sheet:
Call of Duty: Finest Hour ? The newest installment in the award-winning Call of Duty series, Call of Duty: Finest Hour takes console players to the frontlines of combat to experience the cinematic intensity, chaos of battle and epic moments of World War II across new campaigns across the North African, Western and Eastern Fronts. An original game for the console systems, Call of Duty: Finest Hour delivers all-new missions featuring authentic squad-based combat, explosive vehicle action and cinematic special effects to deliver a breathtaking first person action thriller. Covering three Allied campaigns, players experience some of history's most intense battles and for the first time assume the role of multiple characters within the Russian, British and American forces. Call of Duty: Finest Hour is being developed by Spark, which is comprised of over 30 individuals who developed titles in the Medal of Honor series, including several of the production leads.
Cinematic Intensity of War ? Play through epic battlefield moments that thrust gamers onto the frontlines of WWII's most intense battles ? with the sights and sounds of war echoing all around. Battle the Nazi War Machine across all new authentic combat missions covering the war-torn North African, Eastern and Western Fronts. New missions range from epic battlefield conflicts featuring hundreds of soldiers to coordinated tactical assaults, sabotage, stealth and sniper missions. Plus, gamers engage in greater vehicle combat, which includes the freedom of movement to get in and out of vehicles as duty calls.
Brothers-In-Arms ? Experience the camaraderie of a squad, bound together through the chaos of battle. Through advanced AI, the player's squad will act like a trained military unit, with authentic tactics and maneuvers ? laying down suppressing fire, providing cover fire and coordinating attacks on enemy positions. Experience the war through six unique player roles, with each character carrying a personal and patriotic story to tell. For the first time, play as multiple characters within a campaign, as new roles are revealed through inter-woven stories.
Allied Front ? For the first time, console players will be able to experience the war from multiple perspectives ? through the eyes of a new cast of American, British and Russian soldiers. Enlist as a raw Russian conscript, thrown into the harrowing battle of Stalingrad; take on the role of a British PPA commando ? sent on daring raids in North Africa; and battle Nazi tank forces throughout Belgium as an American tank commander from the famed 761st "Black Panther" Tank Battalion. Battle enemies with an arsenal of more than 30 authentic WWII weapons from the Russian, British, American and German arsenals including pistols, machine guns, sniper rifles, grenades and more
Online Multiplayer (PlayStation 2 and Xbox) ? Go online for Axis versus Allies team-based multiplayer. Work together with players from around the world as a team to eliminate enemies and complete mission objectives. Choose from a variety of Team-based objective games or be the last man standing in Team Deathmatch. Call out to allies or enemies with voice support.